About Us
About the WPIG, the Intel IoT Solution Aggregator

WPG, as an Intel® IoT Solution Aggregator and Intel® IoT Solution Alliance member, is the best channel to offer the most diversified Intel® IoT solutions to address your business needs across multiple domains and applications. To play the role of IoT Solution Aggregator, WPG is capable to serve IT Systems Integrators and OT System Integrators in Asia and Greater China regions, bridge the overall end-to-end (Edge to Cloud) applications. To integrate IoT solutions and put Industrial ODM/OEM/ISV solutions on the shelf, more effectively support System Integrators to select suitable solutions. Moreover, assist in the establishment and cultivation of industry knowledge and use cases, promote various IoT applications and support to scale business through ecosystem partners' enablement. As an Intel IoT Solution Aggregator, WPG will by leveraging our technology partner ecosystem to provide aggregated, end-to-end, ready-to-deploy Intel MRS/RRK solutions.

WSPP (WPG SI Partner Program)
In this program, Intel® IoT Solution Aggregator-WPG is capable of providing aggregated, end-to-end/Edge to Cloud applications, and serving System Integrators to select suitable ready-to-deploy Intel MRS and RRK solutions. Moreover, the partnership privileges for the high priority of sales, technical and marketing support. WPG will partner with Intel and SIs to establish a greater IoT ecosystem.
→Contact us to know more about this program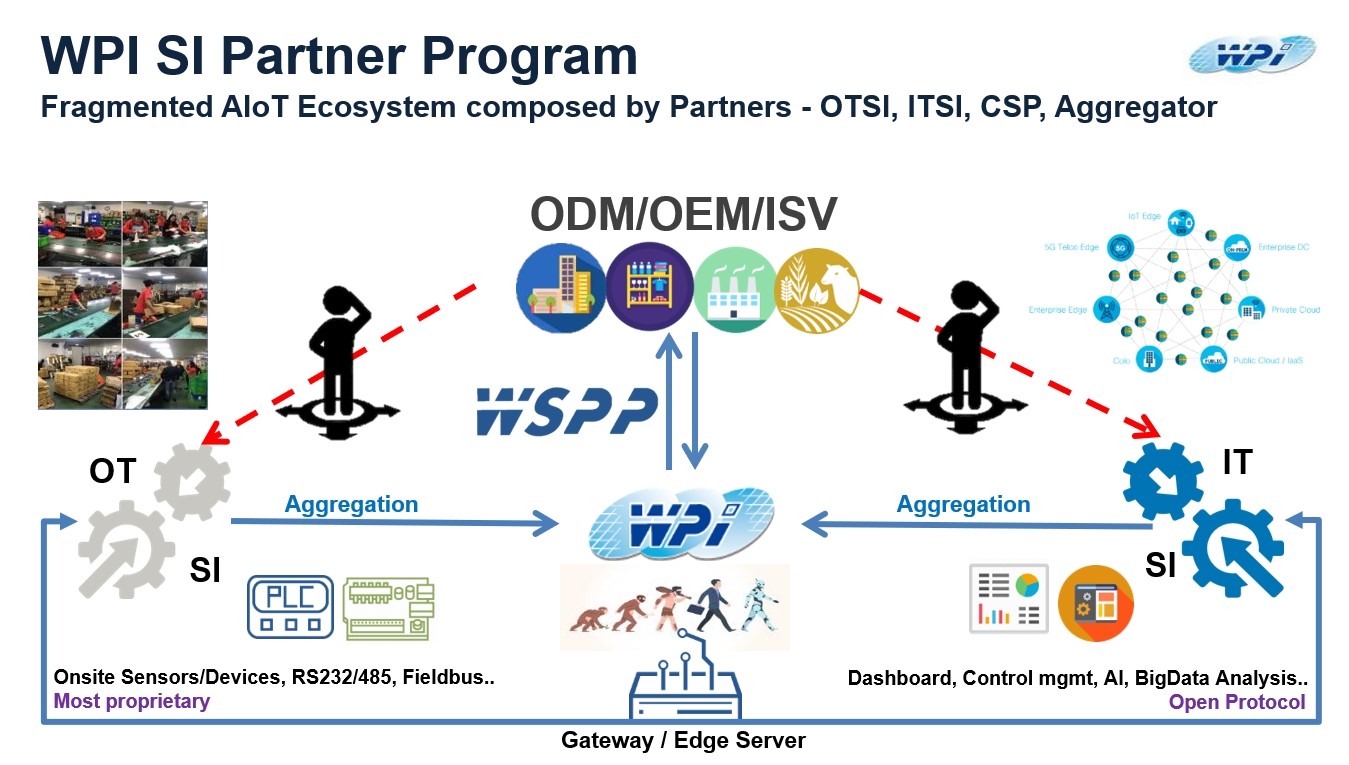 Introduction of Intel MRS/RRK

Intel Market Ready Solution introduction

Intel® IoT Market Ready Solutions (MRS) are scalable, repeatable, end-to-end solutions that are commercially available in the market and targeted to end-users as identified by Intel. These solutions are made up of sensors, edge hardware, software, cloud, and analytics from across the IoT ecosystem. Delivered through at least one system integrator/solution provider. These solutions deliver innovative business transformation and have been vetted through market adoption and deployment.

Intel RFP Ready Kits Introduction

Intel® IoT RFP Ready Kits (RRK) are use case focused, interoperable technology offerings which are pilot-ready and targeted to system integrators as identified by Intel. These enterprise grade kits offer hardware from sensor to cloud, domain specific application software and have a distribution model and support model in place. The technology must be repeatable across customers, and adaptable to customer requirements.
Know more aboiut Intel MRS (Market Ready Solution)? Click Here
Know more about Intel RRK (RFP Ready Kit)? Click Here
Know more about Intel Internet of Things Solutions Alliance? Click Here
Partner
(In Alphabetical Order A-Z)