events
2019/05/27
[Registration Now! Seminar in Philippine on Jun 13] Tomorrow's AIoT Trends Unveiled: Industry 4.0




The Industry 4.0 promises not only creating new industrial technologies, but also connecting all existing industrial services, sales, and product With IoT solutions, we can build up smart manufacturing and enable to provide more efficient service, simplified business models and improved after-sales service.

WPIG/WPG are committed to be the best IoT solution aggregator to link ODMs, SIs, ISVs, Software Providers, Cloud, Service Providers, and OT & IT System Integrators into the most complete Ecosystem Partnership.
In this seminar, Intel and WPIG/WPG will be introducing the new IoT Solution Aggregator role and will be sharing various vertical IoT solutions with our audience. This will allow our SI customers the ability to leverage a full portfolio of solutions leading to fast deployment of IoT solutions and reduce time to market. We will showcase ADLINK's Plug-and-Play AI machine vision solution, TouchCloud's on-site real-time monitoring AI solution, visualized OpenVINO development kit by LeaderG, and Calibr8's local Industry 4.0 IoT solutions.



EVENT DETAILS:
Date:
Jun 13th, 2019
Time:
13:30 – 17:30
Venue:
Discovery Primea Hotel,Manila, Philippne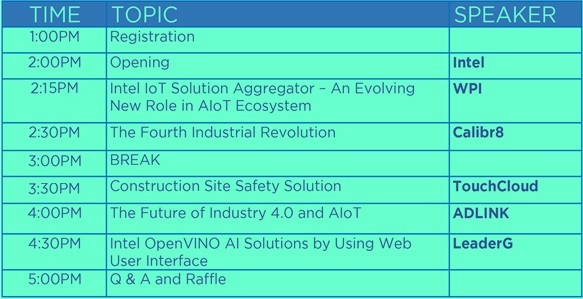 For more information please contact:
Please call to register at 975 55 96 and email us at
Calibr8