events
2019/03/25
Seminar in India on April 24: Tomorrow's AI and IoT Trends Unveiled

IoT is one of the biggest driving forces (together with Data, AI, Cloud) toward Digital Enterprise Transformation. This transformation connects devices to the Cloud and it also assists to achieve each vertical domain services business needs through resource integration. In this new transformation across all industrial boundaries, new roles and new business initiatives are rapidly emerging.
Because of the diversified application and business development model of IoT deployments, IoT Ecosystem plays a very important role to drive towards the path of success.
WPIG/WPG are committed to be the IoT solution aggregator role to link ODM, OEM, ISV, Software Providers, Cloud, Service Providers, and OT & IT System Integrators into an Ecosystem Partnership. In this seminar, Intel and WPIG/WPG will be introducing this new role as an IoT Solutions Aggregator, and will be sharing various vertical IoT solutions including smart cities, smart manufacturing, smart retail, and iEducation etc., to our audience. This will provide our SI customers to leverage on our solutions aggregation role and in-return benefit on the ease of developing IoT business.
WPIG IoT Solution Aggregator role of the main aspects and strategies include:
Serve IT Systems Integrators and OT System Integrators in Asia and Greater China regions, bridge the overall end-to-end (Edge to Cloud) applications.
Integrate IoT solutions and put Industrial ODM solutions on the shelf, more effectively support System Integrators to select suitable solutions and manage inventories.
Assist in establishment and cultivation of industry knowledge and use cases, promote various IoT applications and support to scale business through ecosystem partners enablement.
---
EVENT DETAILS:
Date: April 24th, 2019
Time: 09:30 – 16:30
Venue: Crowne Plaza Today New Delhi Okhla
Plot No.1, Community Centre,
Okhla Phase - l, New Delhi – 110020
www.crowneplaza.com/newdelhi-okhla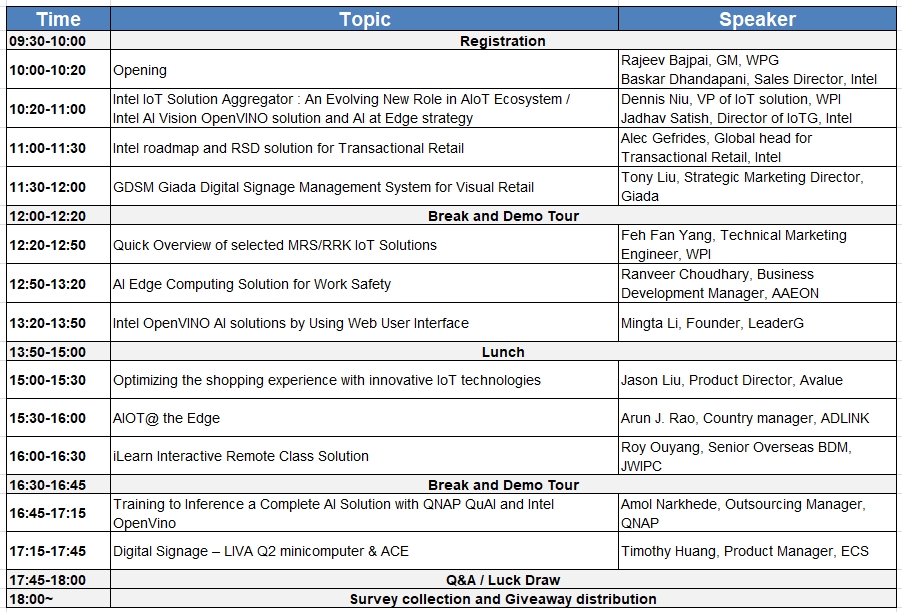 Remarks:
1. All information is subject to change without further notice
2. English will be the primary language used in all sessions

Intel® IoT Market Ready Solutions (MRS) are scalable, repeatable, end-to-end solutions that are commercially available in the market and targeted to end-users as identified by Intel. These solutions are made up of sensors, edge hardware, software, cloud, and analytics from across the IoT ecosystem. Delivered through at least one system integrator/solution provider. These solutions deliver innovative business transformation and have been vetted through market adoption and deployment.

Intel® IoT RFP Ready Kits (RRK) are use case focused, interoperable technology offerings which are pilot-ready and targeted to system integrators as identified by Intel. These enterprise grade kits offer hardware from sensor to cloud, domain specific application software and have a distribution model and support model in place. The technology must be repeatable across customers, and adaptable to customer requirements.

1. Know more aboiut Intel MRS (Market-ready-solutions)? Click Here
2. Know more about Intel RRK (RFP Ready Kit)? Click Here


Intel OpenVINO stands for Open Visual Inferencing and Neural Network Optimization, know more about OpenVINO, Click Here