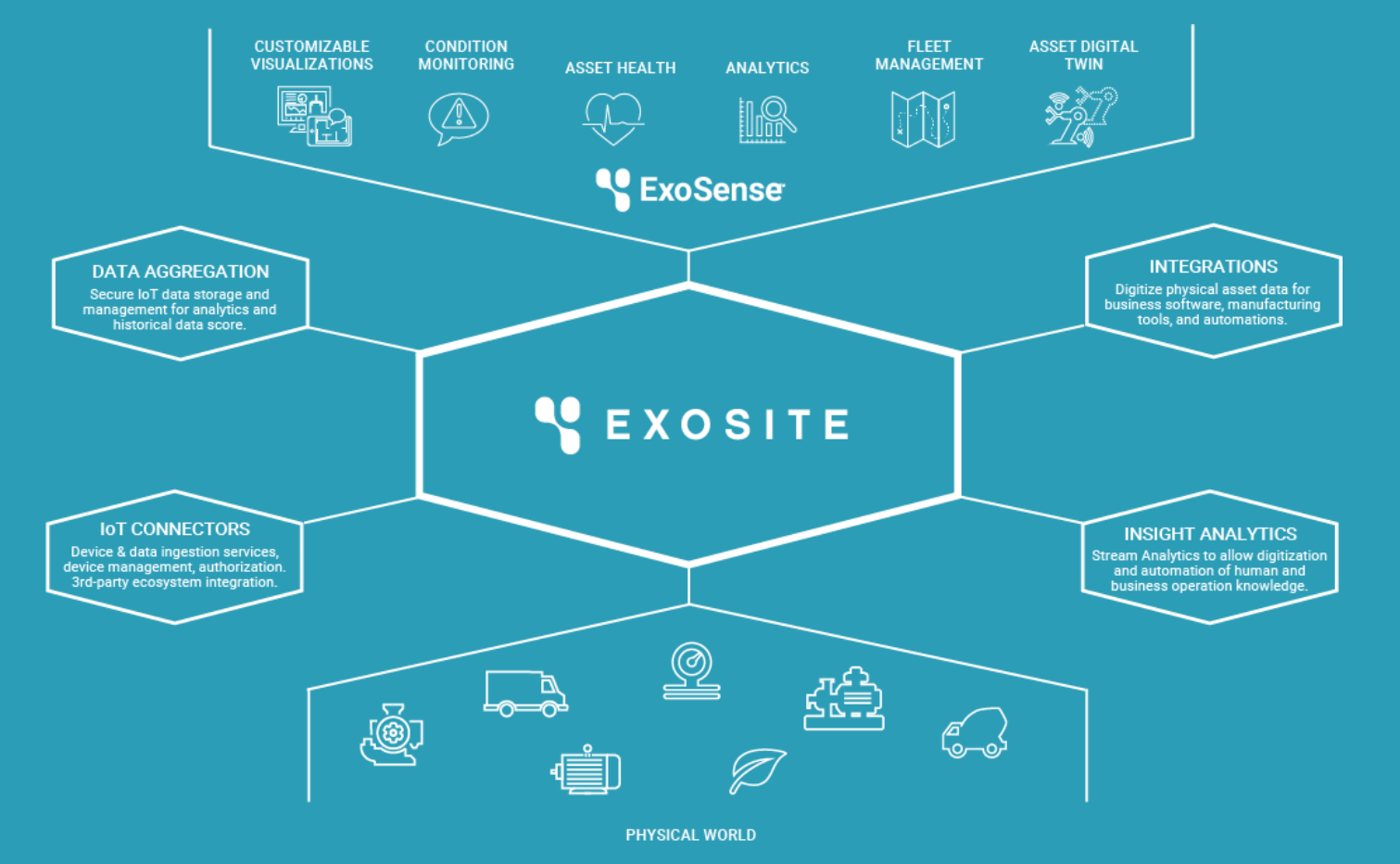 Exosite:ExoSense® Condition Monitoring Solution
AIoT
Description
ExoSense® is a ready-to-deploy condition monitoring application that provides operational insight into industrial assets, systems, and equipment. It enables any organization to predict maintenance, alert users of critical operating conditions, optimize processes, reduce energy usage, and deliver new functionality and services to customers.
Customizable Dashboards & Fleet Views
Configurable Dashboards and Panels
Real-time condition status updates & Key indicator logic
Fleet metric & Asset Location Map views
Kiosk and Shareable Dashboards
Real-time Analytics, Rules, Notifications
Built-in rules include sustained duration thresholds, matches, and timeouts
Email and SMS notifications supported off the shelf
Build your own Analytic functions
Trigger Action functions such as escalations, maintenance orders, support tickets
Incorporate Machine Learning models
Deploy, Brand, Onboard Users, Manage
Each instance is it's own self-contained branded solution
Custom user permission roles
Group-based permission hierarchy for onboarding unique customers, sites, regions, etc.
Code-less Configuration & Workflows
Digital Twin Assets are user definable - Map any IoT device data for your assets.
Insert streaming data Transform and Rules
Use Asset Template workflows to simplify installs
Generate recurring reports
Integrations
API to integrate with business software
Interface for creating custom pipeline functions, rules, and actions integrations.
Marketplace: off-the-shelf Machine Learning, Analytics, Filters, and Action functions
Data ingestion from Third-party IoT device clouds
Any Machine, Equipment, System
Supports mix of sensors and industrial protocols
Partner IoT Edge Hardware already integrated
Build your own IoT hardware with open Device API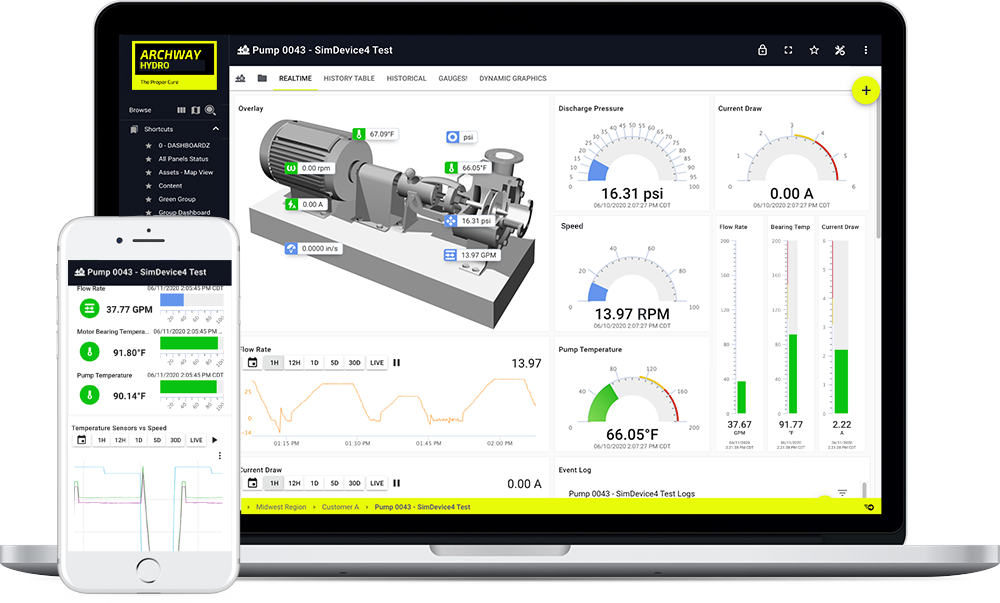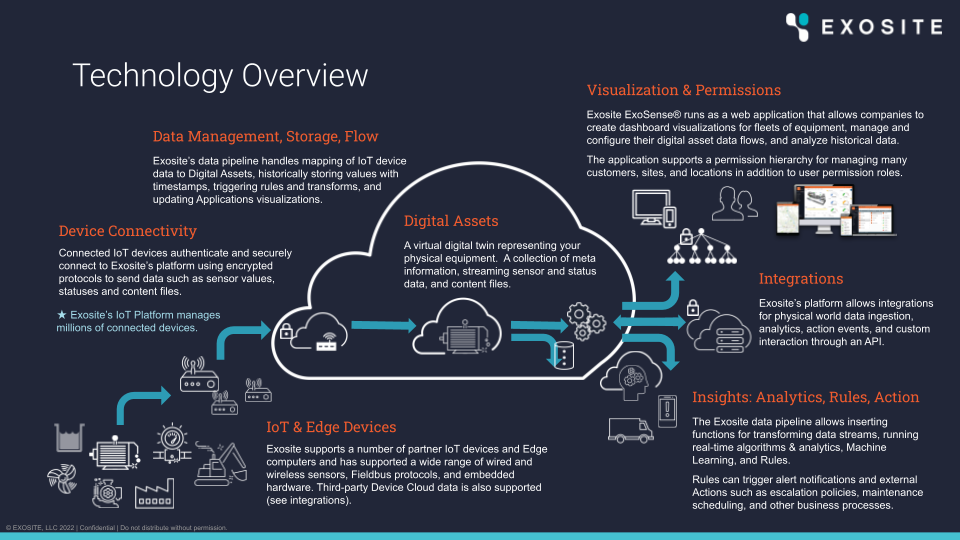 IoT Solution Application
Exosite's zero-barrier IIoT applications and off-the-shelf vertical solutions are suitable for a variety of industries In addition, we offer consulting services to help companies develop and implement IoT solutions, as well as training and support.
Smart Manufacturing
IoT plays an important role in the smart factory and smart manufacturing. It collects data through sensors and IoT gateways, and sends data to the ExoSense to monitor the status of production line equipment, set alerts, or analyze data to continuously monitor and optimize workflows and processes.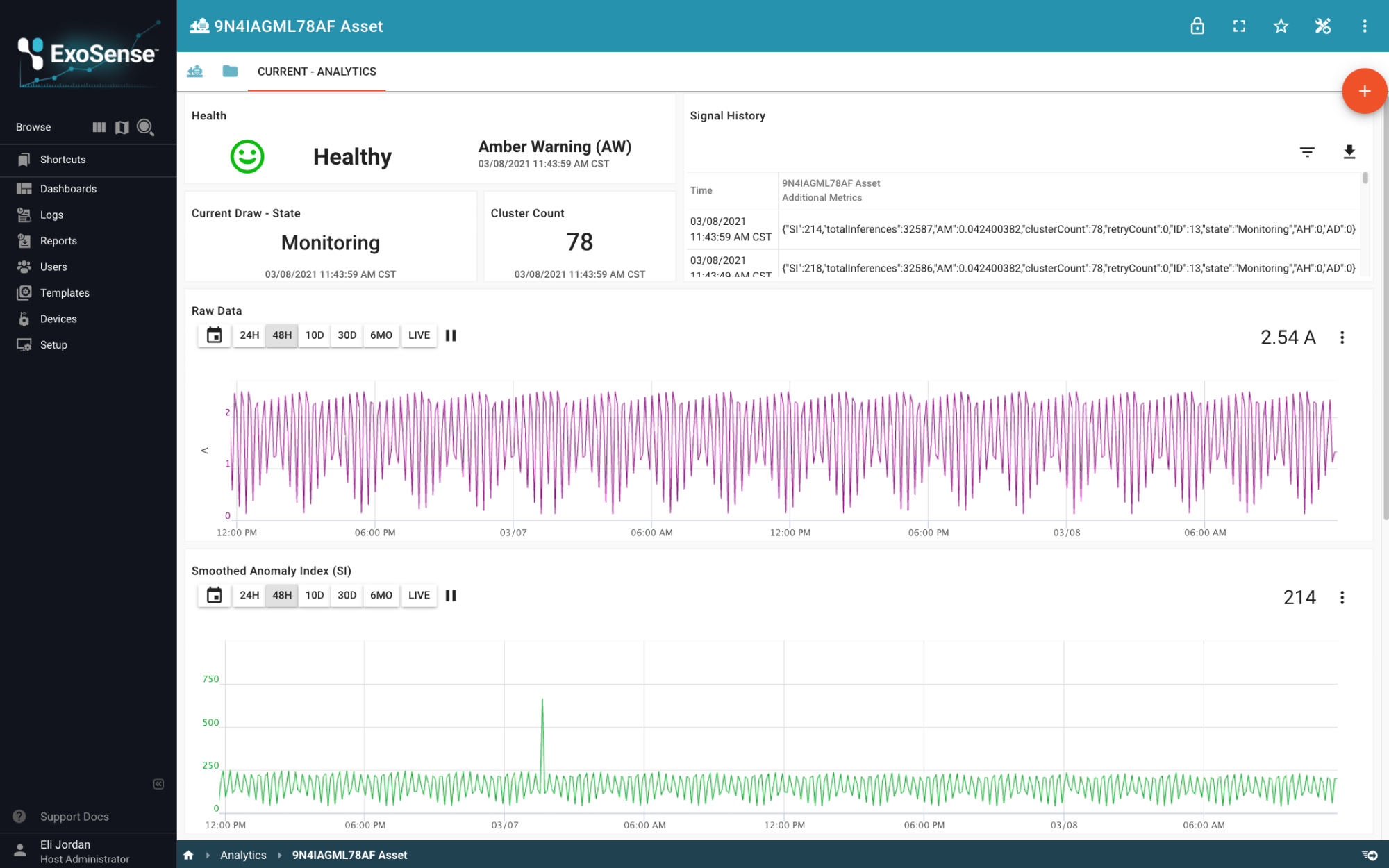 Vibration Analysis and Predictive Maintenance
The motors in the machine are often time-consuming and expensive to repair. Install vibration sensors on the machine and integrate AI machine learning to achieve predictive maintenance and reduce huge losses caused by unexpected shutdowns. Exosite and its partners have widely used this system in engines, large air compressors, robotic arms, and various motors.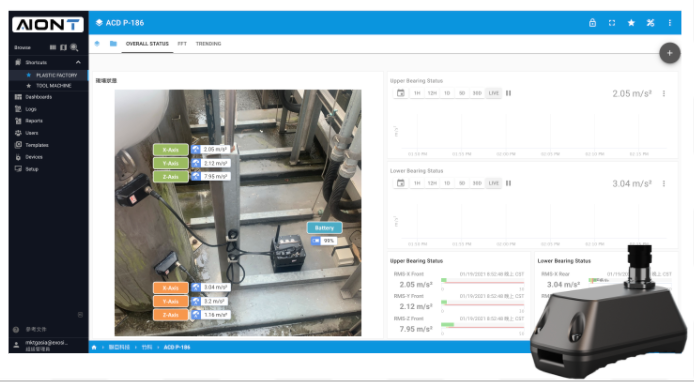 Environmental, Social, and corporate Governance
ESG has begun to be valued by enterprises in recent years. The contribution of the IoT in ESG can be applied to environmental protection, such as carbon emission monitoring, or social responsibility, such as working environment health. By installing different environmental sensors, monitoring can be arranged for different environments, and reports can be generated for ESG review.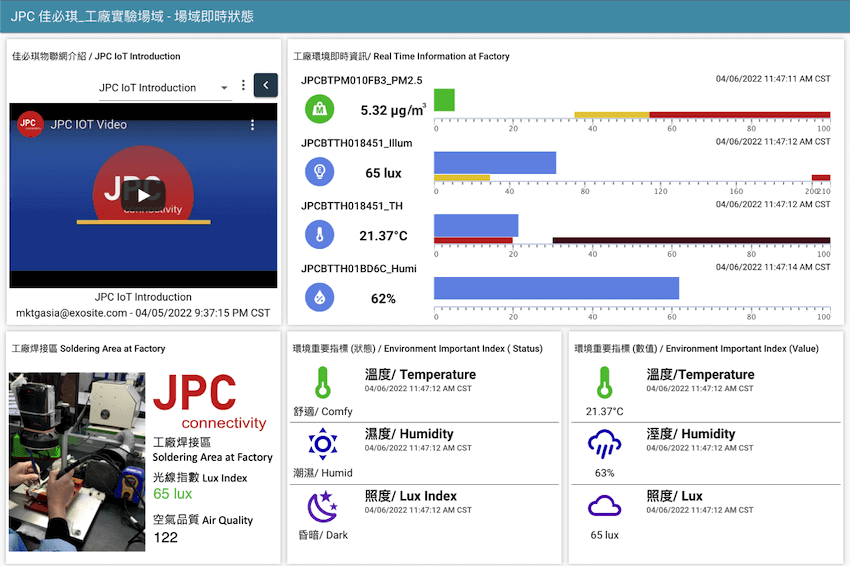 Energy Monitoring
For most renewable energy generation projects, maintenance operations focus on real-time power monitoring and equipment status monitoring. ExoSense's highly customizable dashboard and scalable IoT architecture allow owners to monitor 1 site to multiple sites; from solar farms to wind power plants; from local to remote systems monitoring management.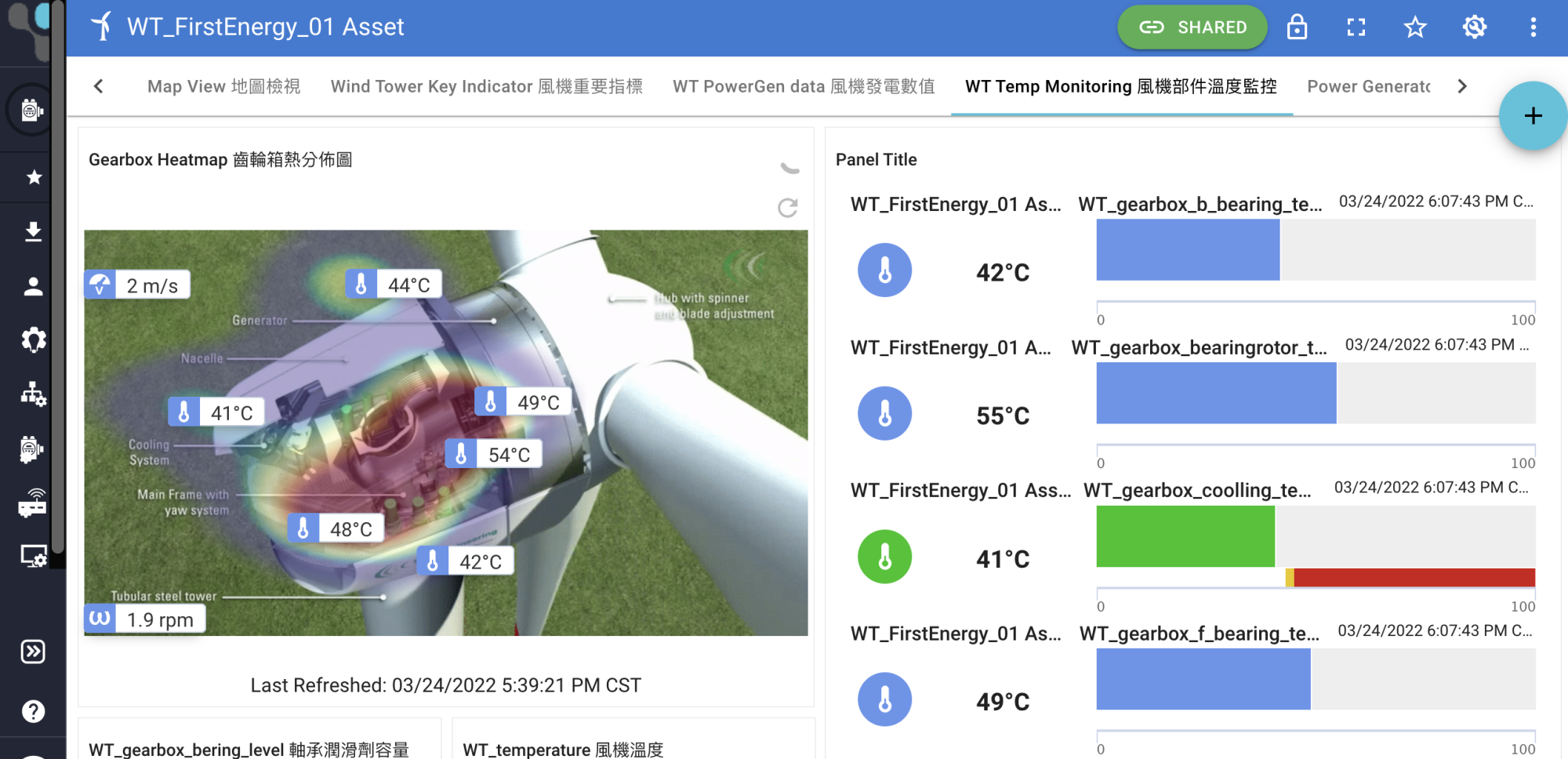 Smart Agriculture, Fishery and Animal Husbandry
The challenge of IoT applications in agriculture, fishery, and animal husbandry is how to effectively transmit sensor data in a wide range, integrate weather information, and provide real-time data for data analysis to improve production capacity and production efficiency. The sensors and IoT gateways provided by Exosite's partners provide a wide range of communication methods like NBIoT, LoRa, 4G, etc. to upload important production data to the cloud for monitoring.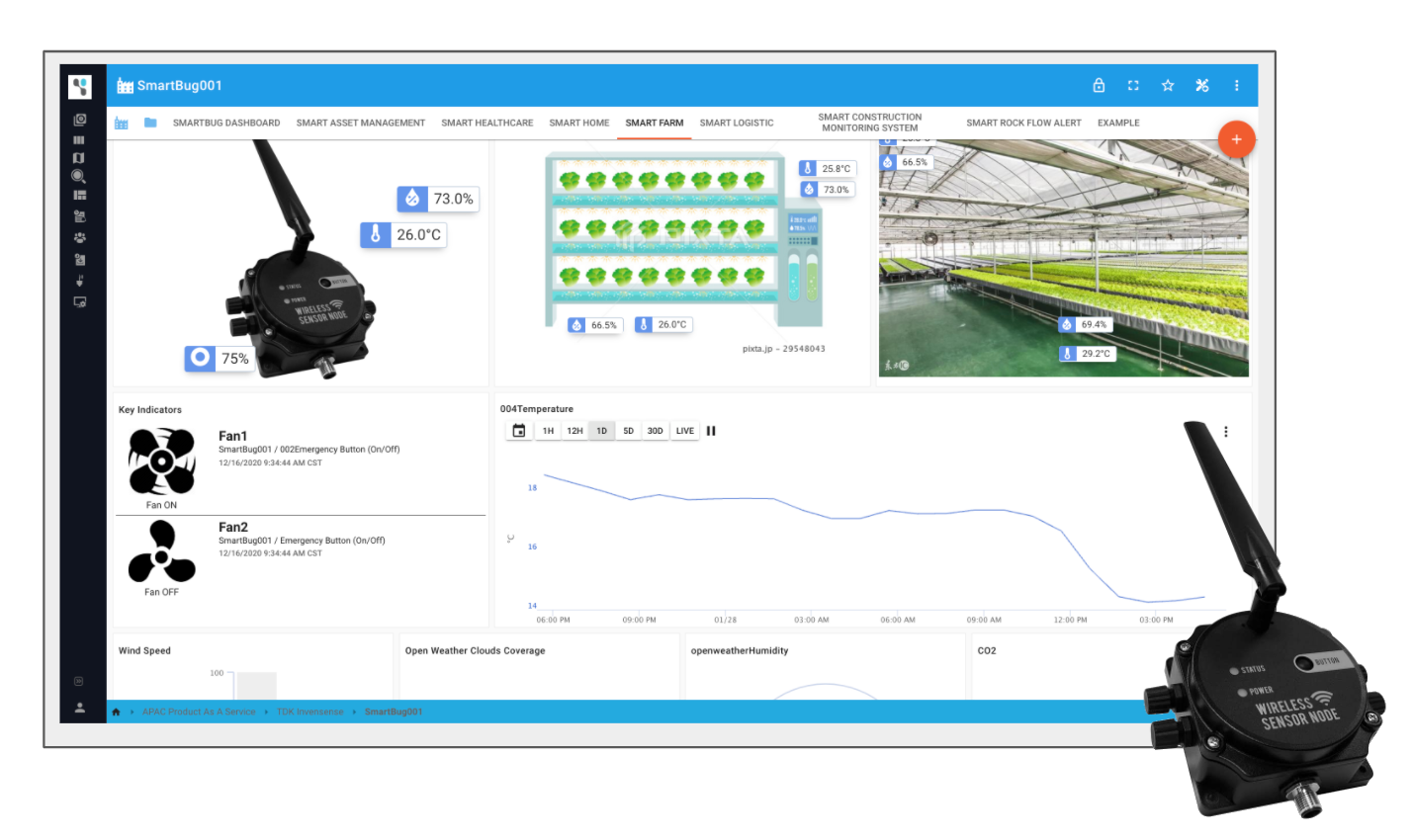 Smart Building Application
ExoSense is fully integrated with our in-house smart home solution - ExoHome, which is
established according to the TaiSEIA 101 protocol. ExoSense can be used as a central management system for the buildings.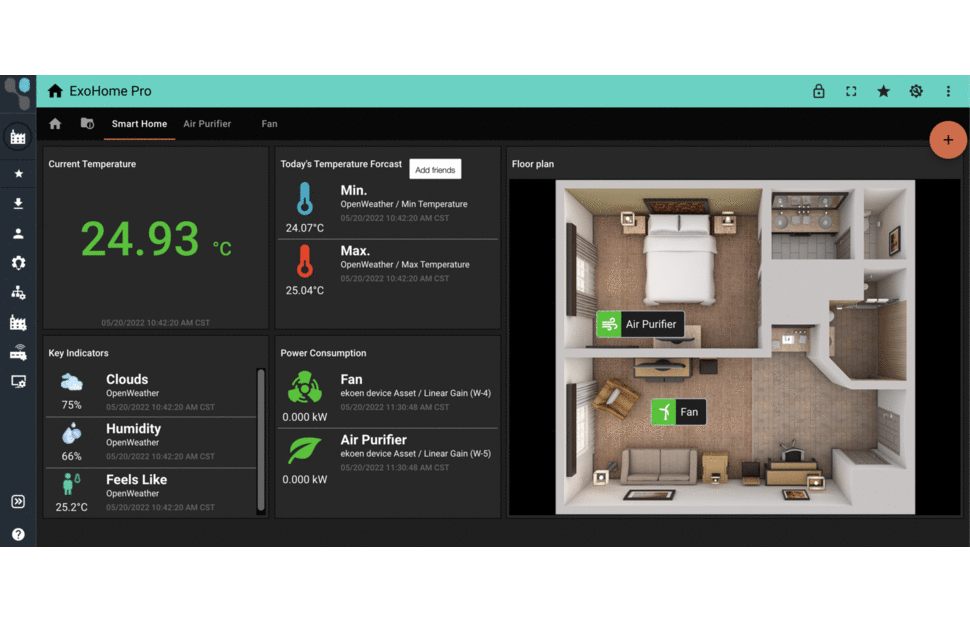 IoT Solution Specification
ExoSense offers different solution tiers, from lightweight usage suitable for proof-of-concept (PoC) verification, to enterprise-level solutions with the most complete functions of ExoSense. Users can choose the appropriate plan according to their own needs, and can switch tier any time.
ExoSense is rich in functions and flexible in use. You can consult our solution expert to find out which tier is best for you.
Dashboards - Create visualization dashboards for assets
Digital assets/Data storage - Create digital assets and store historical digital data for an asset.
User Management - User account, roles, and authorization management.
Device Management - Manage device connected to ExoSense
Assets & Group Hierarchy - Manage assets and level of depth allowed within grouping hierarchy.
Rules - Access to Rule modules for asset real-time signal processing, status, and notifications.
Transforms - Access to Transform modules asset signals that can be used to process signal data.
Asset Template - Use Asset Templates to manage and deploy many assets from one place.
Notification - Use Email, SMS, or custom actions.
Custom Brand / Theme - Change the application color scheme, logo, language, and navigation link strings.
Asset Types & Asset Grid View - Create custom types for your assets and custom tabular fleet view.
Data Reports Export - Schedule data export of historical asset signal data.
Bulk Changes - Use bulk change functions to make multiple updates at one time.
Device Control - Use bi-directional device control functionality.
Custom DNS Hostname - Ability to set custom hostname for the ExoSense application URL.
Device Software Management - Ability to manage and deploy software packages to connected devices from within ExoSense.
API Access - Access to the ExoSense public API.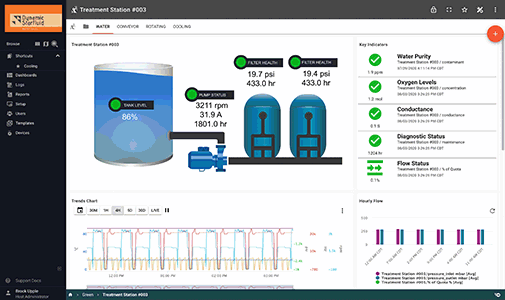 Partner