Edge Computing
2023/09/29
Giada:AE613 Raptor Lake Semi-Industrial Computer
IOT System
Description
Introducing the Giada AE613 Semi-Industrial Computer with Raptor Lake (Intel® 13th Gen.)


Looking for a robust and high-performance computing solution for your semi-industrial needs? Look no further! Giada has just launched the AE613, featuring the cutting-edge Raptor Lake architecture from Intel® 13th Generation processors.
Key Features:
Intel® 13th Gen. Performance: The AE613 is powered by Intel® latest Raptor Lake processors, providing you with unparalleled computing power for demanding tasks.
Semi-Industrial Reliability: Built to withstand harsh industrial environments, the AE613 is rugged, reliable, and designed for 24/7 operation.
Compact and Expandable: Despite its small footprint, this semi-industrial computer offers plenty of expansion options, including PCIe slots for additional cards and storage.
Versatile Connectivity: With a wide range of I/O ports, including USB 3.2, HDMI, DisplayPort, and more, the AE613 can connect to all your peripherals and displays effortlessly.
Efficient Cooling: The AE613 features a smart cooling system to ensure optimal performance and reliability even in challenging conditions.
Enhanced Security: Protect your data and systems with advanced security features, including TPM 2.0 and secure boot options.
Whether you're running critical applications in manufacturing, automation, self-service kiosk or need a dependable computing solution for your industrial needs, the Giada AE613 has got you covered.
Don't miss out on this opportunity to elevate your semi-industrial computing game with the latest from Giada. Upgrade to the AE613 and experience the power of Intel's 13th Gen. Raptor Lake processors.
Visit our website or contact us today to learn more and place your order. Experience the future of semi-industrial computing with Giada!
IoT Solution Application
Application Use Case: Semi-Industrial Computer in Manufacturing Quality Control
Background: In manufacturing industries, ensuring product quality is of paramount importance. Manufacturers need real-time monitoring and control systems to detect defects, maintain consistency, and optimize production processes. A semi-industrial computer, like the Giada AE613, plays a crucial role in this context.
Use Case Scenario:
Problem Statement: A manufacturing facility producing precision components is experiencing quality control challenges. The current manual inspection process is time-consuming, prone to errors, and lacks real-time feedback. The company seeks to enhance quality control by implementing an automated system.
Solution: The Giada AE613 Semi-Industrial Computer is integrated into the manufacturing line for real-time quality control.
Key Components:
AE613 Semi-Industrial Computer: The Giada AE613 is placed at multiple inspection points along the production line. Its compact form factor and industrial-grade design ensure it can withstand the manufacturing environment.

Cameras and Sensors: High-resolution cameras and sensors are strategically placed to capture detailed images and data of each component as it moves along the assembly line.

Machine Vision Software: Advanced machine vision software is installed on the AE613. This software is trained to recognize defects, deviations, and quality issues in the components.

Connectivity: The AE613 is equipped with a variety of connectivity options, including Ethernet and USB ports, allowing it to interface with other machines, the central control system, and cloud-based analytics platforms.
Workflow:
Image Capture: As components move along the assembly line, cameras capture high-resolution images and sensors record critical data points.

Real-time Analysis: The AE613 processes the captured data locally, running the machine vision software to analyze the images and data in real time.

Defect Detection: The machine vision software identifies defects, deviations, or quality issues in the components, triggering alerts for further action.

Immediate Feedback: The system provides real-time feedback to the manufacturing line, allowing for immediate adjustments. If a defective component is detected, it can be removed from the line or sent for rework.

Data Logging: The AE613 logs all inspection data, including images and analysis results, for traceability and quality control reporting.
Benefits:
Improved Quality: The automated system powered by the AE613 ensures consistent and high-quality components, reducing defects and rework.

Increased Efficiency: Real-time monitoring and feedback reduce production downtime and increase throughput.

Cost Savings: Fewer defects mean reduced waste, rework, and potential recalls, resulting in cost savings.

Data Insights: The logged data can be used for continuous process improvement, allowing the company to refine manufacturing processes over time.

Scalability: The solution can be easily scaled to accommodate increased production volumes or additional quality control checkpoints.
By implementing the Giada AE613 Semi-Industrial Computer in their quality control process, the manufacturing facility achieves a significant enhancement in product quality, efficiency, and overall competitiveness in the market.
Application Use Case: Semi-Industrial Computer in Self-Service Kiosk
Background: The self-service kiosk industry has grown significantly in recent years, transforming the way businesses interact with customers. These kiosks, found in retail stores, restaurants, airports, and other public spaces, offer convenience and efficiency. To ensure reliable, 24/7 operation in diverse environments, semi-industrial computers, such as the Giada AE613, are becoming indispensable components in self-service kiosk solutions.
Use Case Scenario:
Problem Statement: A fast-food restaurant chain is looking to enhance its customer experience and operational efficiency by deploying self-service kiosks for order placement and payment. However, they require a computing solution that can withstand heavy usage, varying environmental conditions, and deliver a seamless customer experience.
Solution: The Giada AE613 Semi-Industrial Computer is integrated into the self-service kiosk system, ensuring reliable and robust performance in a demanding environment.
Key Components:
AE613 Semi-Industrial Computer: The Giada AE613 serves as the computing engine of the self-service kiosk. Its rugged design and high-performance capabilities make it suitable for 24/7 operation in a busy restaurant.

Touchscreen Display: The kiosk features a user-friendly touchscreen display that allows customers to browse the menu, place orders, customize items, and make payments.

Payment Processing Hardware: Secure payment terminals are integrated, allowing customers to complete transactions using various payment methods, including credit cards, mobile wallets, and cash.

Order Management Software: Customized software is installed on the AE613, managing the ordering process, transmitting orders to the kitchen, and updating order status in real-time.

Remote Monitoring and Management: The AE613's connectivity options enable remote monitoring, maintenance, and software updates, reducing downtime and ensuring system reliability.
Workflow:
Customer Interaction: Customers approach the self-service kiosk and interact with the touchscreen display to browse the menu, select items, customize orders, and add them to the cart.

Order Processing: The AE613 processes customer orders in real-time, ensuring accurate item selection, calculating prices, and transmitting orders to the kitchen for preparation.

Payment Processing: Secure payment processing hardware integrated with the kiosk allows customers to make payments conveniently, ensuring the security of their financial data.

Order Status Updates: Customers receive real-time updates on their order status via the kiosk display, such as "Preparing," "Ready for Pickup," and "Order Complete."

Receipt Generation: Once the order is complete, the kiosk generates a digital or printed receipt for the customer's records.
Benefits:
Improved Customer Experience: Self-service kiosks powered by the AE613 offer quick and convenient order placement and payment, reducing wait times and enhancing customer satisfaction.

Efficient Operations: The kiosk streamlines the ordering process, reduces human error, and optimizes kitchen operations, leading to faster service and higher throughput.

Reliability: The AE613's rugged design and reliability ensure uninterrupted service, even in high-traffic environments.

Remote Management: Remote monitoring and management capabilities of the AE613 simplify maintenance and troubleshooting, minimizing downtime.

Data Insights: The system can collect valuable data on customer preferences, order trends, and peak hours, helping the restaurant chain make data-driven decisions.
By deploying the Giada AE613 Semi-Industrial Computer in their self-service kiosk solution, the fast-food restaurant chain significantly improves its customer experience, operational efficiency, and overall competitiveness in the market.
IoT Solution Specification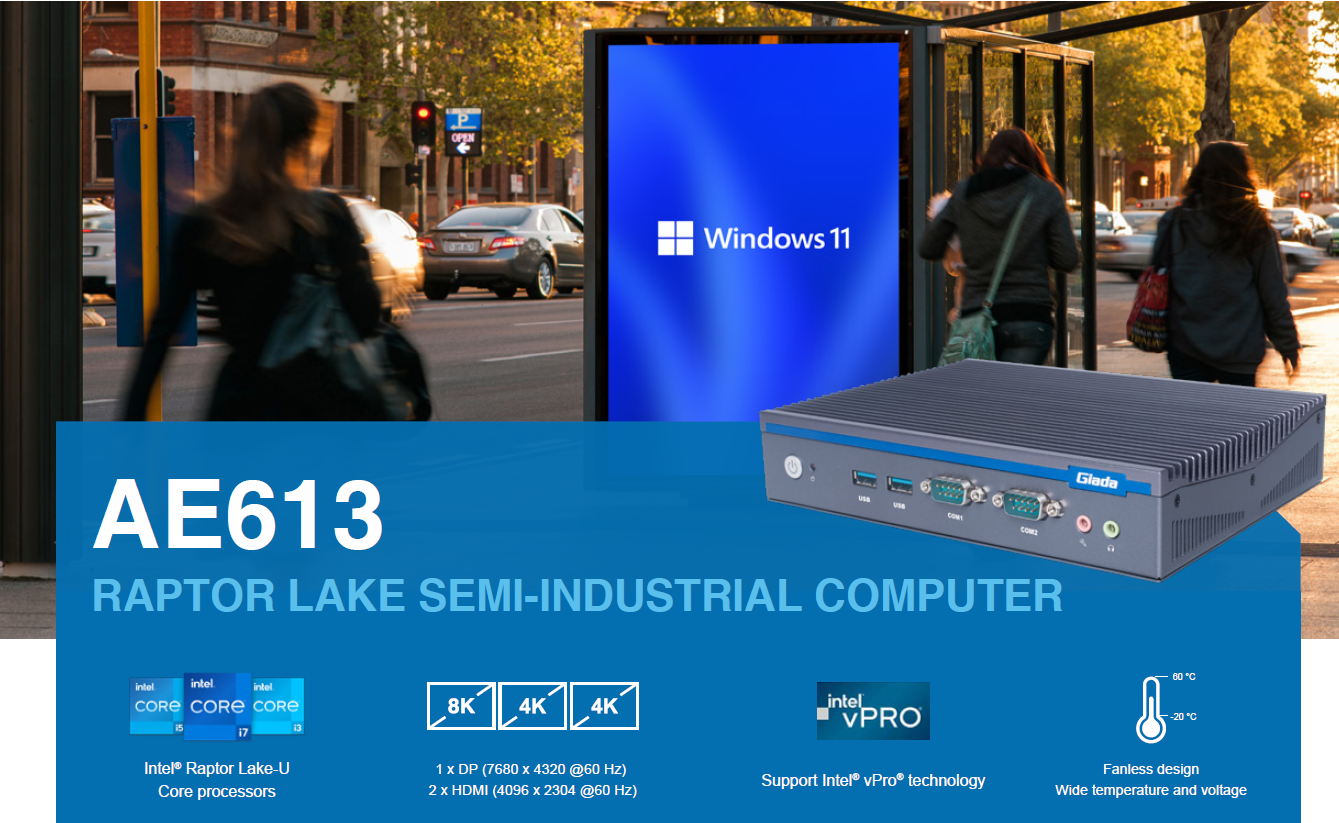 Download
The files in the following blocks can be downloaded after filling in personal information
Partner