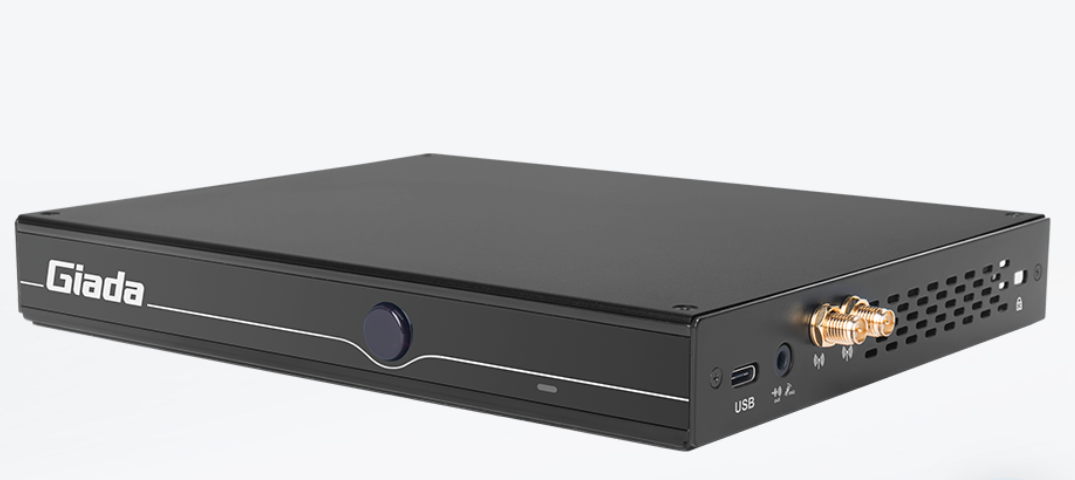 Edge Computing
2023/07/07
Giada:D612 4 Video Output Media Player
IOT System
Description
Introducing the Giada D612 Signage Player: Revolutionizing Digital Signage Solutions

In today's fast-paced world, effective communication and captivating visual displays are essential for businesses to capture the attention of their target audience. Enter the Giada D612 Alder Lake Signage Player, a cutting-edge solution that sets new standards in digital signage technology. Packed with power and innovation, this device offers an unparalleled level of performance and versatility to meet the dynamic needs of modern businesses.

The newly high-performance embedded PC, modeled D612 features 12th Gen Intel® Alder Lake Core processors. It's perfect for digital signage, high-end gaming, POS kiosk, edge AI and deep learning. This book-size PC has impressive graphics with 4 HDMI ports, a Type-C and up to 64GB of dual-channel DDR4 memory.

The Giada D612, 12th Gen Alder Lake Signage Player is built upon the foundation of Intel's highly anticipated Alder Lake architecture, representing a leap forward in processing power and efficiency. Equipped with a powerful combination of high-performance cores and high-efficiency cores, this device delivers a remarkable level of performance while optimizing energy consumption.

One of the key highlights of the Giada D612 is its ability to handle demanding multimedia content seamlessly. Whether it's high-definition videos, 3D animations, or interactive applications, this signage player delivers smooth and stunning visuals, captivating viewers and enhancing brand engagement. The device supports resolutions up to 4K, ensuring every detail is showcased with exceptional clarity and vibrancy.

Furthermore, the Giada D612 Signage Player offers unparalleled connectivity options, making it a versatile solution for diverse signage applications. With multiple HDMI outputs, alongside USB ports and networking capabilities, businesses can easily connect and manage a wide range of displays, ensuring their message reaches the right audience at the right time.

Flexibility is another key aspect of the Giada D612. Thanks to its compact form factor, this signage player can be easily integrated into various environments, such as retail stores, hospitality venues, corporate offices, and public spaces. Whether it's mounted behind a display, attached to a wall, or integrated into a kiosk, the Giada D612 seamlessly blends into any setting without compromising performance or functionality.

Moreover, the Giada D612 offers extensive software compatibility, supporting popular operating systems such as Windows and Linux. This allows businesses to leverage their preferred software platforms, providing the freedom to design and customize their digital signage content with ease. Additionally, with its robust hardware specifications, this signage player can effortlessly handle multitasking and run resource-intensive applications, ensuring smooth and uninterrupted operation.

Giada D612 Digital Signage Player features:
✔️Intel® 12th Gen Processors
Giada D612 houses Intel 12th-Gen (Alder Lake) processors of i3-1215U, i5-1235U, which deliver 19 percent more performance than today's 11th-gen (Rocket Lake). At the same time, it can support Intel 12th-Gen Alder Lake-P processors (optional). D612 has the Intel vPro and TPM 2.0 features to deliver increased productivity, remote manageability and data security.
✔️ Four Display Outputs
The player adopts Intel® integrated Iris® Xe GPU (Core i5), which has 50% graphic performance improvement compared with the last generation. It can deliver up to 4 x 4K displays (4096 x 2304@60Hz) via 4 x HDMI2.0 ports.
✔️ Intel® vPro Technology delivers integrated hardware-based PC protection
Intel® Hardware Shield delivers integrated hardware-based PC protection, which includes below-the-OS security, application and data protection, and advanced threat detection.
✔️ 5G Mobile Network, up to 10 times faster than 4G LTE speeds
5G provides game-changing benefits like speeds up to 10 times faster than 4G LTE speeds, a safer alternative to public Wi-Fi, low latency and massive capacity. The Quectel®-RM50XQ 5G module was certified to be compatible with D612.
Giada D612 can be applied in Video wall or any other #DigitalSignage monitors.

In conclusion, the Giada D612 Signage Player represents a significant advancement in digital signage technology. With its powerful performance, stunning visuals, extensive connectivity options, and flexible design, this device empowers businesses to create captivating and immersive experiences for their audience. Whether it's for advertising, information display, or interactive presentations, the Giada D612 sets the stage for the future of digital signage, revolutionizing the way businesses communicate and engage with their customers.
IoT Solution Specification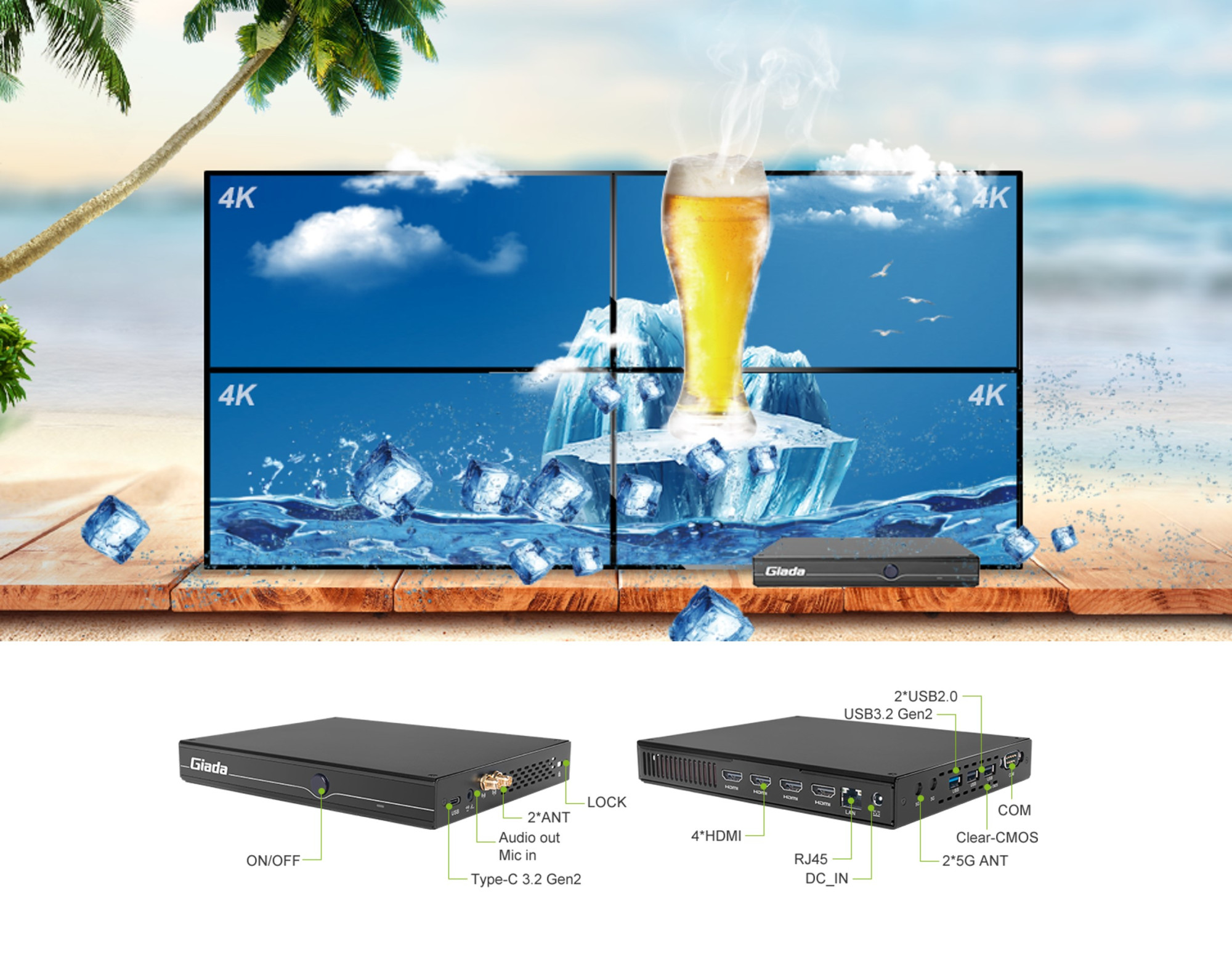 Download
The files in the following blocks can be downloaded after filling in personal information
Partner