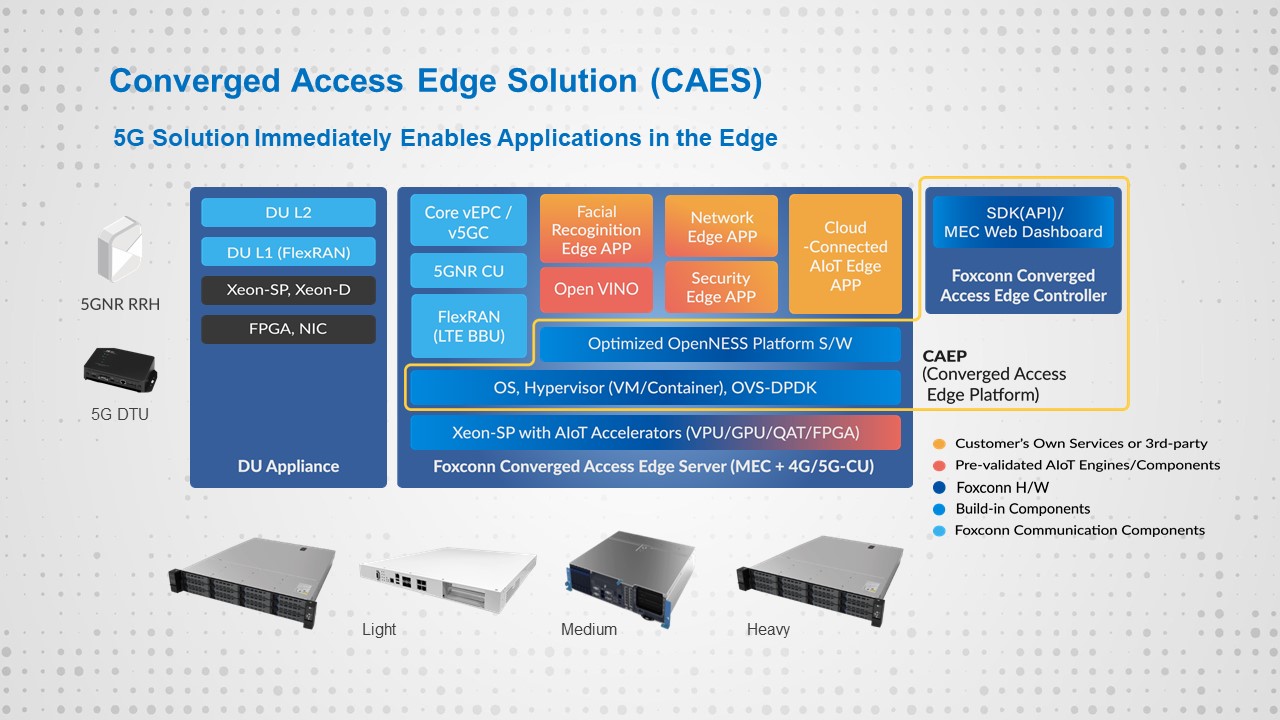 Edge Computing
2020/12/02
Perobot : 5G MEC Converged Access Edge Solution (CAES)
Intel IoT RFP Ready Kits
Description
Along with the explosion of the IoT industry, the number of terminal devices has skyrocketed. More and more real-time computing needs gradually emerge. Traditional cloud computing can no longer meet the demands of future intensive computing.
In order to meet the needs of the market, Perobot adopted Foxconn's CAEP (Converged Access Edge Platform) - a multi-functional edge computing platform, which is developed based on a standard architecture. Perobot CAES (Converged Access Edge Solution) aims to assist AIoT system integrator to easily transfer existing application services from the cloud to the edge. Not only provides the ability to quickly integrate with various network interfaces but increase the real-time performance and usage of the entire application service.
In addition, this product can be applied to the complete 5G private network solution provided by Foxconn. Customers can use the CAEP for Foxconn's 5G RRH equipment management, 5G base station communication server setup and management, and 5G core network setup. Let system integrator use the shortest time to enhance the competitiveness of existing applications.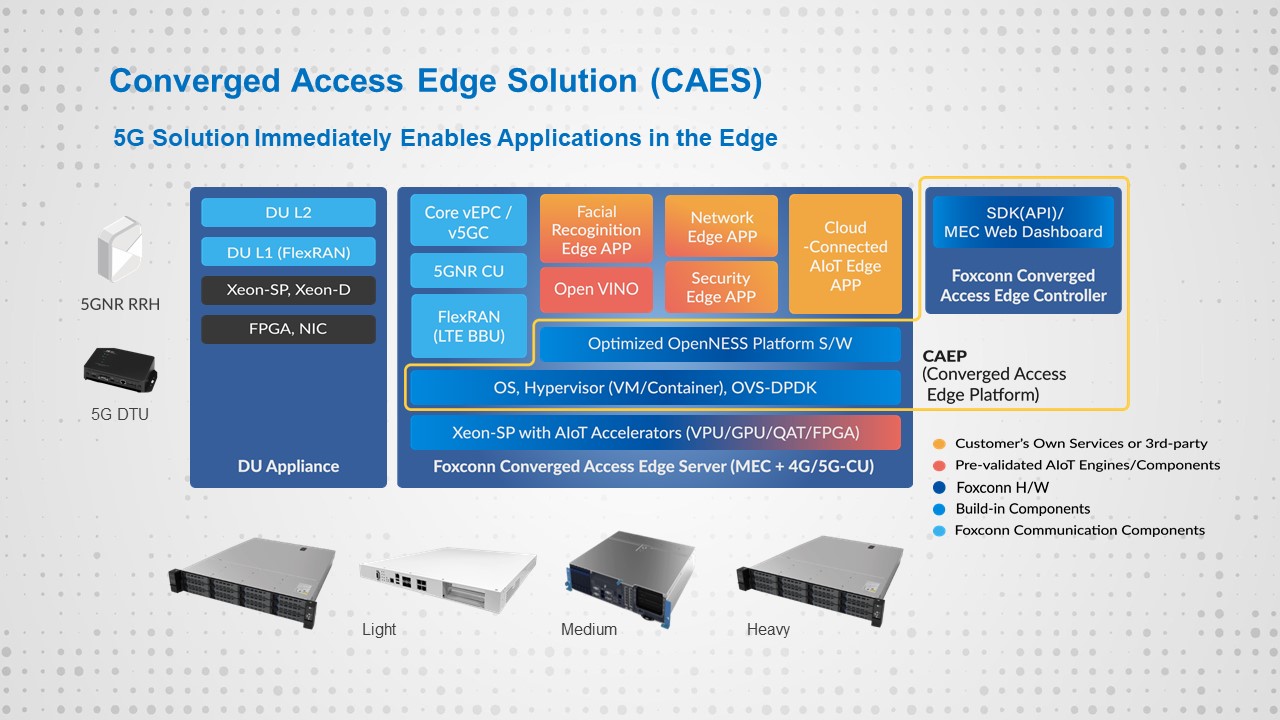 IoT Solution Application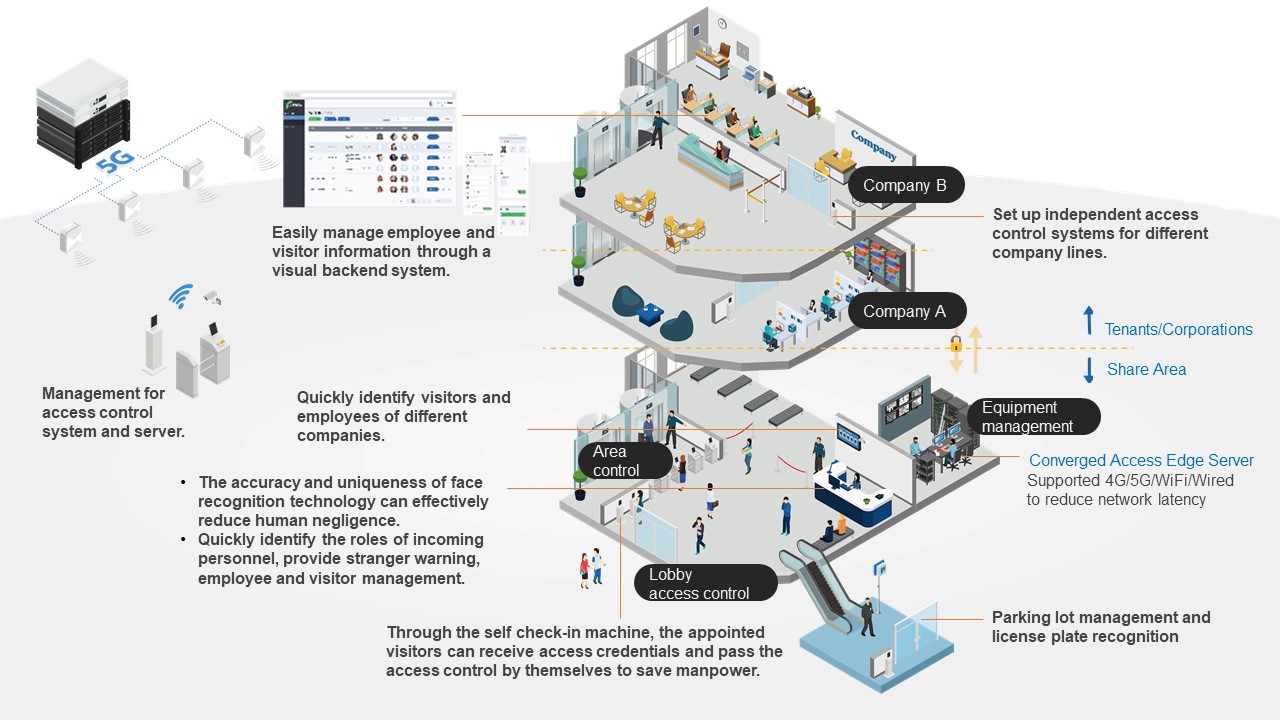 ▽ Use Case - 01
Smart Building
Based on machine vision, Perobot provides smart access control solutions to enterprises rapidly and with high accuracy. The intuitive management dashboard can track cars by people, track things by cars, and track materials by things. This supports high availability (HA) functions and helps reduce the risk of service downtime.
▽ Use Case - 02
Smart Security Application
Enterprises can integrate facial recognition with other features and functions to develop customized applications such as intrusion detection, in-building per-person tracing, and security image analysis.
▽ Use Case - 03
Smart Retail Stores
Using facial recognition as a core function, retail stores can integrate the traffic flow of customers, sales items, motion, and theft security. Safety monitoring for conditions such as fire or smoke detection can also be integrated with machine vision monitoring.


▽ Use Case - 04
Robotics Application
By using facial recognition as a core function for service robots, industrial robots, image analysis, and automation. CAEP is also suitable for smart building, people flow management, factories, and enterprises.


IoT Solution Specification
Suggested Hardware
Model
FCDS-3081
FHES-6080
FHES-5211
Chassis
1RU
2RU
2RU
Processor
1 x Skylake D-2183 (16C)
1 x Skylake 6148/6248 (20C)
2 x Skylake 6148/6248 (2x20C)
Memory
64GB (4 RDIMMs, up to 128GB)
128GB (6 RDIMMs, up to 192GB)
128GB (24 RDIMMs, up to 768GB)
Storage
960GB M.2 NVMe/SATA SSD + 1 x SATA SSD
960GB NVMe/SATA SSD (SYS) + 960GB NVMe/SATA SSD (APP)
960GB M.2 SATA SSD + Up to 12 SAS/SATA HDD drivers
Network
4 x GbE RJ45, 4 x 10GbE SFP+ 1 x GbE RJ45 (management)
2 x 1GbE NICs (I210), NCSI support 1 x Intel AC9260 WIFI
2 x GbE RJ45 ports 2 x 10GbE SFP+ ports
PCle Expansion
1 x PCIe 3.0 x16 FHFL slot (GPU) or 2 x PCIe 3.0 x8 FHFL slots
(VPU,
QAT, NIC)
2 x PCIe 3.0 x16/x8 LP (GPU, FPGA) 3 x PCIe 3.0 x8 FHHL (VPU,
NIC,
QAT)
2 x PCIe 3.0 x16 FHHL (GPU, FPGA) 2 x PCIe 3.0 x8 LP (VPU,
NIC, QAT)
Dimension
435(W) x 448(D) x 44(H) mm
448(W) x 408(D) x 87(H) mm
446(W) x 711(D) x 87(H) mm
Partner