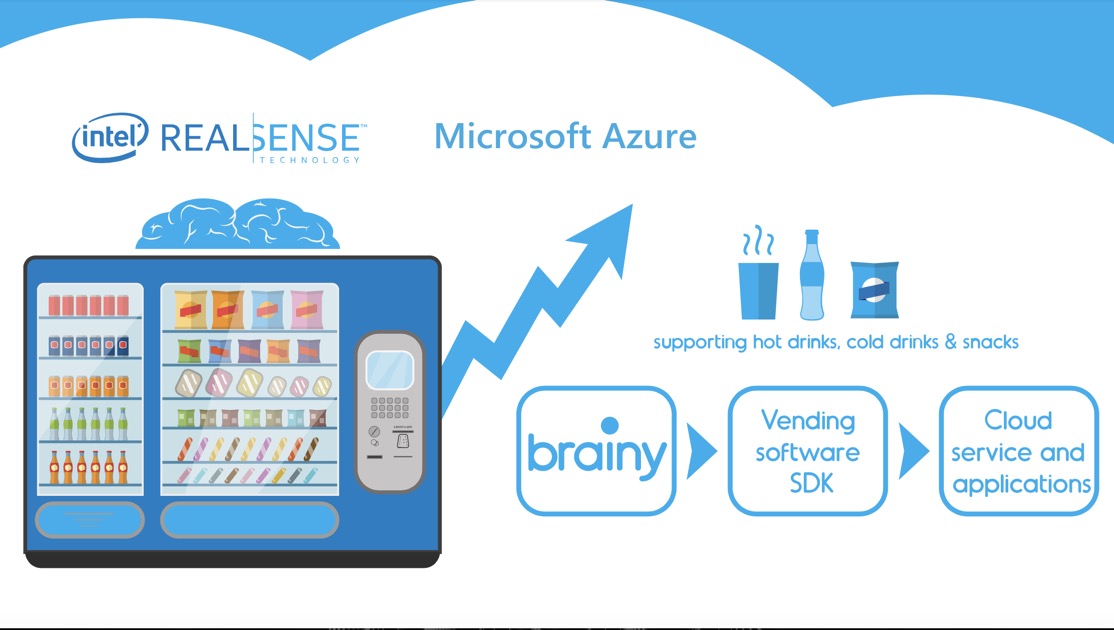 AAEON: Intelligent Vending Development Kit
Intel IoT RFP Ready Kits
Description
AAEON has provided an intelligent solution to facilitate their functions. The smart solution, called Brainy, offers exceptional shopping experiences to the customers all over the world and has completely changed our typical view towards vending machines of the past.

Along with the coming of the Internet of Things (IoT) age and its increasing prevalence in our daily lives, Brainy supports Intel® RealSense™ technology through AAEON's "UP" board, a credit-card-size single board computer. The union of UP Board and Brainy results in an AAEON solution, which can easily be combined with additional features such as digital advertising, marketing or consumer gesture recognition, if necessary. In addition, being certified by Microsoft Azure, Brainy can also provide several additional services, such as central pricing management and real-time sales data analytics.





The cloud-based technology, the internet connection and flexible expansion of board connectivity enables the intelligent vending machines to embrace the following dynamic features:
IoT Solution Application

1. SMART Stocking Control
Operators can access a mobile dashboard application 24/7 to retrieve real-time transactions and data analysis of sales performance, which leads the operators to data and management of inventory stock levels to optimize the restocking route and effectively maximise the revenue opportunities.
2. SMART Hardware Maintenance
Instant visibility through remote monitoring capability can proactively notify of any potential technical issues that need to be addressed prior to machine failure.
3. SMART Target Marketing
Integrated with a RealSense™ camera in the intelligent vending machine, real-time consumer behavior/demographic reports allow the operators to gather product campaign feedback instantaneously. For instance, product preference by which group of people in terms of their age, gender and location, allowing more time to take business strategies to the next level.
IoT Solution Specification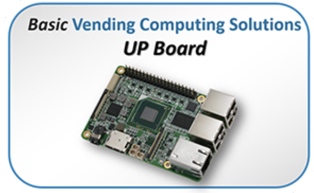 Basic Vending Computing Solution:
AAEON offer the UP Board to enable computing and expansion capabilities as the entry-level to vending compute solutions.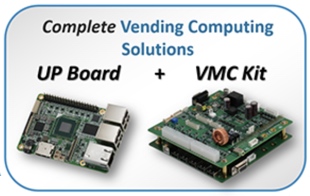 Complete Vending Computing Solution:
The VMC Kit offers full vending functionality with new Intelligent Vending features. VMC enables precision dispensing detection with a motor control system enabling management of several types of machines dispensing products through spirals.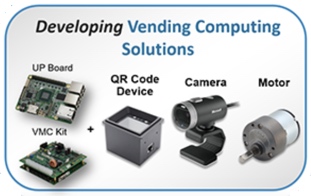 Developing Vending Computing Solution:
Using the Intelligent Vending Development Kit, it's easy to create a real-time, interactive vending experience that includes facial recognition software and a Full HD resolution touchscreen that customers can use to make their purchases. As an option, a Microsoft Azure and Power BI service can be added to collect transaction logs and use them to produce consumer behavior reports and charts for back-end analysis.
Intel Intelligent Vending based
MDB, USB and Protocol A support for vending devices
Flexible motorcontrol
24V or 12V
Supports up to 160 DC motors
GPIO, Modular, or Momentary break
Versatile support for sensors –
Drop(Vending detect)
Temperature
Voltage
Current
Door
5V and 24 Digital I/Os
Supports SPI, I2C, 1-Wire
4 Relay GPOs for controlling high power devices like compressor, light, fan, etc.
8 x 24V GPIs, including 4 opto-isolated inputs
4 Analog-to-Digital inputs
LCD display support
Keypad support
Download
Partner