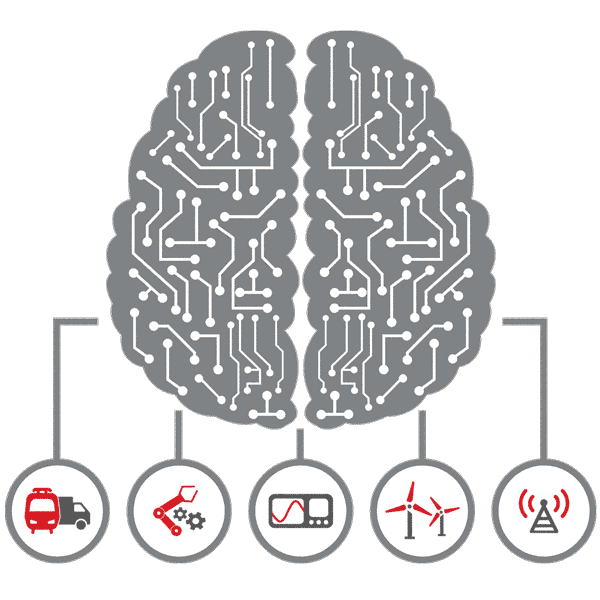 Edge Computing
2020/02/17
ADLINK: ROS2.0 Development Platform
Intel IoT RFP Ready Kits
Description
Ongoing advances in robotics are making human-machine collaboration and unmanned vision easier to achieve. Highly-integrated secure environments enable robotic systems to more easily recognize and respond to diverse environments. These systems are becoming more adaptive and flexible, allowing them to access instructions and information more intelligently. AI-enabled real-time, system-wide communications boost performance significantly, such that, as the systems get smarter, a wider variety of complex tasks can be accomplished.
ADLINK robotics solutions allow users to develop complex robotic applications with minimal investment outlay, whereby they enjoy the benefits of various AI engines, development environments, flexible hardware systems, and evolving Data Distribution Service.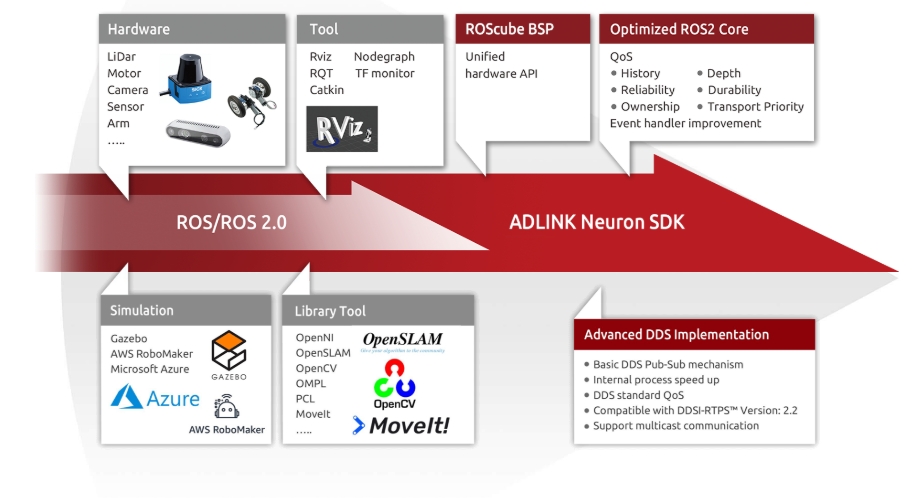 Robot Mobility
Robots play important roles in the automation of processes across a wide range of industries, such as smart manufacturing and logistics, where they assemble and transport inventory, among many other tasks. Advances in vision technology, artificial intelligence (AI), and communications and computing technologies have led to a new generation of mobile robots. Like self-driving cars, next-generation mobile robots utilize trackless navigation1, plan the best routes, complete missions without boundaries, and avoid collisions – all without the need for external guidance. As a result, future mobile robots will require large amounts of computing and graphic processing performance, delivered by a low power, small form-factor board. This intelligence also provides new opportunities for humans and machines to collaborate, such as working alongside one another to fill customer orders in a warehouse.
ADLINK integrates ROS/ROS 2.0 technology to provide hardware and software solution for mobile robots which can help factories and robotic system integrators realize the vision of rapid development.

Take ROS/ROS 2.0 as the solution platform to speed up development
What ROS/ROS 2.0 emphasizes is an open-source development platform with an universal framework, which serves as an universal language. ROS/ROS 2.0 provides necessary services for an operating system, including hardware abstraction, equipment control, function realization, information transmission between programs, and package management. As ROS/ROS 2.0 is an open-source, it also provides tools and functions for obtaining, compiling, programming, and cross-computing execution for rapid development. The main goal of ROS/ROS 2.0 is to provide code reusability for robot development, allowing all engineering to be integrated through ROS foundational tools and duplicated rapidly for various application scenarios.

ROS-based Starter Kit Advantages
ADLINK ROS-based Starter Kit, Neuron, uses ROS/ROS 2.0 as the middleware of the controller. Utilizing the robust ROS/ROS 2.0 application library, Neuron can easily connect pieces of factory equipment and enable each piece of equipment to communicate with the others in real-time. This can ensure real-time data sharing and security, thereby realizing a variety of smart manufacturing scenarios. ADLINK ROS-based Starter Kit features hardware flexibility (they offer Intel® CPUs, memory (RAM) and SSDs), compliance with a wide range of I/O ports and support for AI computation platforms. In addition, Neuron is compatible with ROS/ROS 2.0, which means customers can use open-source ROS/ROS 2.0 application libraries for robot control, including vision, navigation, and motion control, to quickly develop new applications. Therefore, Neuron can help to reduce both product launch time and development costs.
IoT Solution Application

IoT Solution Specification
Neuron SDK: ADLINK's Powerful ROS 2 Development Kit
The ADLINK Neuron SDK, delivering powerful development capabilities, is fully compatible with both ROS and ROS 2, featuring an optimized environment providing full access to hundreds of open source robotic algorithms, achieving rapid development for faster time-to-market.
ROScube-X
ROS 2-enabled robotic controller based on NVIDIA® Jetson AGX Xavier™ module
Key Features
Powerful AI computing for intelligent robotics development
Excellent performance per watt with power consumption as low as 20 W
Compatible with ARM-based ROS 2 environment
Ruggedized, secure connectivity with locking USB ports ports
ADLINK's ROScube-X , powered by the Xavier module, features an integrated NVIDIA Volta GPU and dual deep learning accelerators, with a wide variety of interfaces for robotic system integration. ROScube-X supports the full complement of resources developed with the NVIDIA JetPack SDK and ADLINK's Neuron SDK, and is specifically suited for robotic applications demanding high-AI computing with minimal power consumption.

ROScube-I
ROS 2-enabled robotic controller based on Intel® Core™ processors
Key Features
x86-64 mainstream architecture for ROS 2 development
Comprehensive I/O for connecting a wide range of devices
Ruggedized, secure connectivity with locking USB ports
The ADLINK ROScube-I with exceptional I/O connectivity enables a wide variety of sensors and actuators for unlimited robotic applications. Also supported are Intel® VPU and Nvidia GPU cards for computation of AI algorithms and inference. ROScube-I is a perfect platform for development of industrial use service robotic applications such as autonomous mobile robots (AMR) and autonomous mobile industrial robots (AMIR).
ROScube-A
ROS 2-enabled robotic controller powered by Intel ®Atom™ processors
Key Features
Cost-efficient
Efficient deployment for automated guided vehicles (AGV)
Ruggedized, secure connectivity with locking USB ports
ADLINK's ROScube-A, supporting full compatibility with ROS 2.0, is based on Intel® Atom™ processing, resulting in significantly reduced power consumption. The ROScube-A platform utilizes DDS to provide secure real-time connectivity throughout the entire system. Rich I/O connects a wide variety of sensors and actuators to the platform to create a deployed purpose ROS 2.0 controller or develop a general purpose automated guided vehicle (AGV).
Partner