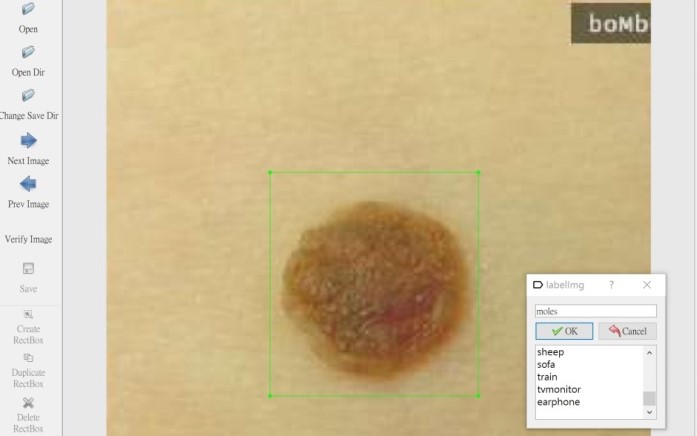 Download Application Test Briefing: AI Vision for Skin Tumor
IOT Module
Description

(Download full test briefing)
Skin cancer has become an epidemic in most parts of the worlds. We need to conduct large-scale preliminary screening via simple tests in order to encourage individuals to seek medication when necessary. The application of Intel® Movidius™ NCS 2 for skin cancer preventive detection is a real-time skin cancer screening service based on Artificial Intelligence (AI). It relies on a huge amount of images to distinguish skin cancer from benign lesions to help people seek professional medical suggestions for effectively.
IoT Solution Application
For testing the application of Intel® Movidius Neural Computing Stick for skin cancer detection, the engineers of World Peace Industrial Group IoT Solution Group purchased endoscope camera with low price and high power. They have also used Intel® Movidius™ Software Development Kit (SDK) to record the high resolution images of moles and skin damages to be compared with the images in the constantly growing database. And Intel® AI Dev Cloud is used to train the AI model. This platform based on Intel® Xeon® expandable processor is available free of charge to members of Intel® AI Research Institute, and it supports various main AI frameworks including TensorFlow and Caffe. To enhance the performance of this diagnosis tool, WPI adopted Intel® Movidius™ Neural Computing Stick which can support screening when there is no immediate access to the Internet.

Intel® OpenVINO™ is a free development kit introduced by Intel® with respect to AI computing method, which allows users to experience the fun of AI program development on the CPUs of their own computers; users only need to download the pre-training neural computing model to use OpenVINO™ Inference Engine for object detection and identification. With the power consumption of only 2W and economic price, it allows user-developed AI programs to be in operation in coordination with the embedded system.
OpenR8 is a complete package for AI which can standardize and modularize AI algorithms into a software kit with reduced price and technical barrier. There is no need for Linux. Users can use and adjust AI algorithms via web browser user interface without any programming. Therefore, the technical barrier of AI can be greatly reduced, and users can simply use OpenR8 via mouse for in-depth learning network training.
Intel® Movidius™ adopts USB appearance design and low power consumption Intel® Movidius™ Vision Processing Unit (VPU), so it can use the word self-contained inference engine to accelerate deep neural network processing. Developers can choose to use the convolutional neural network based on either Caffe or TensorFlow framework to startup the project while using one of several sample networks. The toolkit can be used for analysis and adjustment of neural network, and the compilation of a version of API to be embedded in the neural computing platform.
IoT Solution Specification
Product specifications of actual test system


Intel® Neural Computing
Stick 2 (NCS2)
OpenR8

Exclusive neural computing engine
16 high performance SHAVE kernels
Enhanced ISP supporting 4K
New vision accelerator including stereo depth

Operation via browser window interface without the need for complicated programming interface
Installation-free software kit with built-in Python, TensorFlow, PyTorch, OpenVINO, OpenCV, Caffe , CUDA, and cuDNN. It can be directly executed after decompression
Open source code
Supporting multi-core and multiprocessor
computer
Supporting GPU acceleration
Supporting self-defined library
Execution in local computer without uploading to cloud, thus preventing leaking of confidential information of our company
Download
Download Full Application Test Briefing: AI Vision for Skin Tumor:
Partner