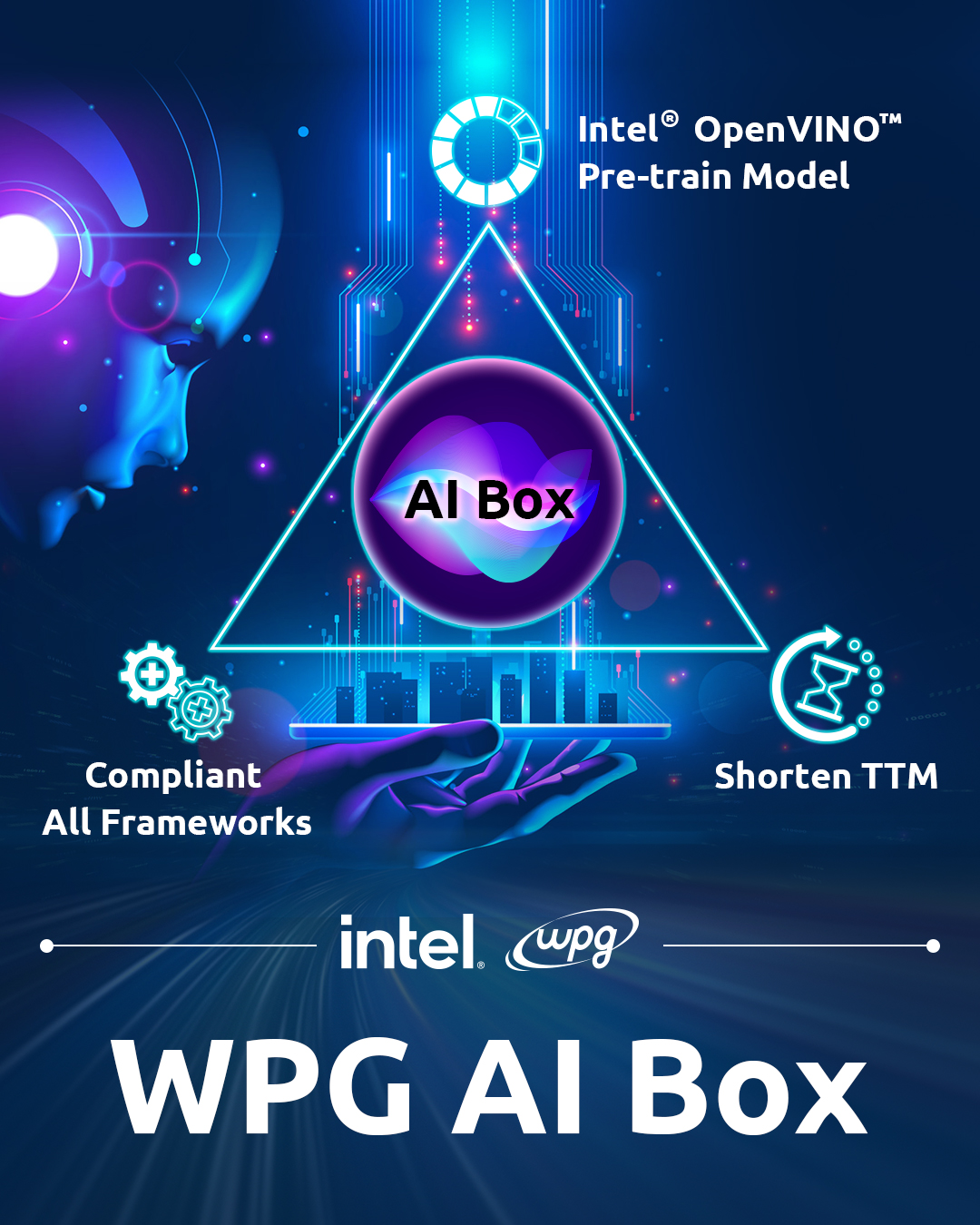 Edge Computing
2022/03/15
Description
Artificial intelligence (AI) is moving from a technical concept to thousands of industries, realizing the actual implementation of multiple scenarios. In this process, the computing power is placed in front of the edge architecture design closer to the data source or service delivery location, and it is also used in various AI application solutions with more agile processing power, lower latency and better security. It has attracted much attention in the process of commercialization.
Among them, intelligent video analysis is favored by users with strong market demand and broad application scenarios. Edge AI-based intelligent video analysis solutions have been widely used in more than 10 fields such as smart cities, smart communities, smart transportation, smart manufacturing, and smart retail.
Building edge AI video analysis capabilities with excellent performance and broad application scenarios is inseparable from the effective aggregation of diverse algorithms and high-performance computing power. This not only requires a powerful hardware platform to carry the intensive computing load required for computer vision and reasoning, but also requires appropriate development tools and software frameworks to complete AI acceleration, and further activate the ecosystem to provide solutions for more scenarios.
In order to help partners complete the solution construction more efficiently and conveniently, WPG provides a series of advanced software and hardware products and technologies such as the WPG AI BOX Solution Accelerator tool suite, and also adopts the integration of software, hardware and algorithms through  AI Box products. Design, accelerate the development and engineering of edge AI applications.

Goal
The goal of WPG AI BOX SOLUTION ACCELERATOR is to saves thousands of hours in integrating required edge to cloud services, accelerating rapid time to RFP response & deployment Uses the shelf solution from Intel & Open Source Code.
Time to Market
Time to Business Outcome
Total Cost of Ownership
Solution Accelerators are Developer Reference Solutions that include all Software required for Developers & Ecosystem Partners to Accelerate their Deployment of Industry Specific AI Solutions.
IoT Solution Application
By adding cameras and computer vision capabilities to intelligent devices, systems can "see" and identify objects. This type of Artificial Intelligence (
AI
) is valuable in a range of environments, making it possible to quickly identify objects, inspect manufactured products, and more.
Vision solutions can also assist with corporate security, monitor the production floor for employee safety, or help identify procedural manufacturing bottlenecks.
Where do we use AI?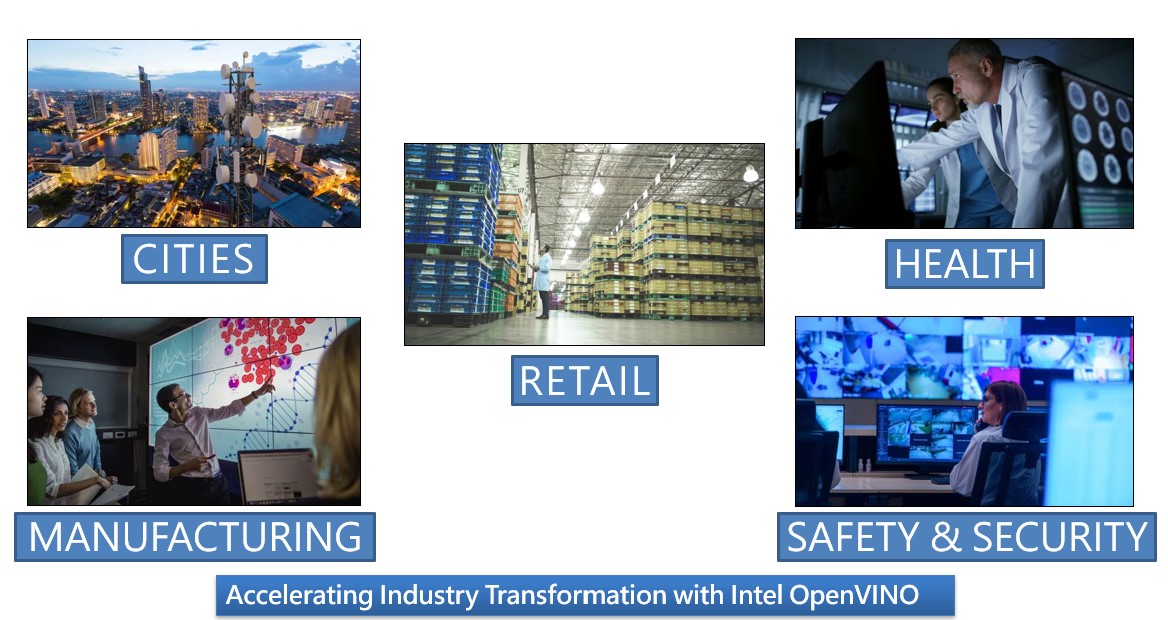 Citie
s :
AI enabling smart urban solutions brings multiple benefits, including more efficient energy, water and waste management, reduced pollution, noise and traffic congestions.
Manufacturing :
AI technology can process and interpret vast volumes of data from the production floor to spot patterns, analyze and predict consumer behavior, detect anomalies in production processes in real-time, and more.
Retail :
Retailers are using AI and technology like machine learning (ML) to power decisions about inventory and the customer sales journey and behind-the-scenes tasks that impact profit margins and efficiency. From better virtual retailer recommendations to theft prevention in physical stores, retail is an industry that has fully embraced the promises of AI.
Health :
AI helps increase the efficiency and productivity of care delivery, besides enabling clinicians and medical practitioners to spend more time in direct patient care without burnout.
Safety & Security :
AI-enhanced security cameras can be used in schools and businesses to cut the response time whenever action needs to be taken. For example, if the person that needs to be detected is a "white male wearing a blue shirt," the AI can differentiate between people entering an area who corresponds to the description and send an alert in real time.
IoT Solution Specification
In terms of hardware, WPG adopts the AI Box based on Intel 11th generation (Tiger Lake), with excellent basic computing power, graphics/media and  AI' acceleration capabilities, to achieve processing performance, usability, stability and security and other aspects of improvement.
The 11th generation Intel® Core™ processors are based on third-generation 10nm process technology and offer a balance between performance and responsiveness on a low-power platform. The powerful CPU of the Tiger Lake platform comes with up to 23% faster single-thread and up to 19% faster multi-thread performance. Graphics performance is up to 2.95 times faster thanks to the new Intel® Iris® Xe graphics and supports PCI Express 4.0 and Thunderbolt™ 4/USB4.
Specifically designed for time-sensitive, low-latency applications, this platform brings enough power to run multiple workloads simultaneously, including AI and deep learning applications.
Other special features include:
REAL-TIME
For many applications, the combination of a powerful CPU and GPU is mandatory. AI and deep-learning capabilities enable the consolidation of workloads. Application examples include computer numerical control (CNC) machines, real-time control systems, human-machine interfaces, tool applications, medical imaging and diagnostics (in applications such as ultrasound), and other applications that require high-resolution HDR output with AI capabilities.
FAST CYCLE TIMES
For many new IoT applications, timely performance is a must. Intel® Time Coordinated Computing (Intel® TCC) helps implement fast cycle times and low latency for applications such as programmable logic controllers (PLCs) and robotics.
MULTIMEDIA
The integrated graphics engine can display up to 4x4k60 HDR or 2x8K60 SDR. It can also decode over 40 incoming video streams at 1080p and 30 frames per second. These features are ideal for applications such as digital signage and network video recorders, as well as computer vision with inference capabilities for application areas such as machine vision and machine inspection.
DEEP LEARNING
AI (Artificial Intelligence) and inferencing applications can be implemented using Intel® DL (Deep Learning) Boost, which runs on the Vector Neural Network instructions (VNNI) of the CPU or with 8-bit integer instructions on the GPU (Int8).



As for software, WPG provides AI Box Development Kit to provide partners with multi-dimensional software support such as visual processing, model optimization, and AI inference acceleration from multiple aspects, accelerating product development, optimizing performance, and shortening time to market.
Solution Architecture (Release Source Code):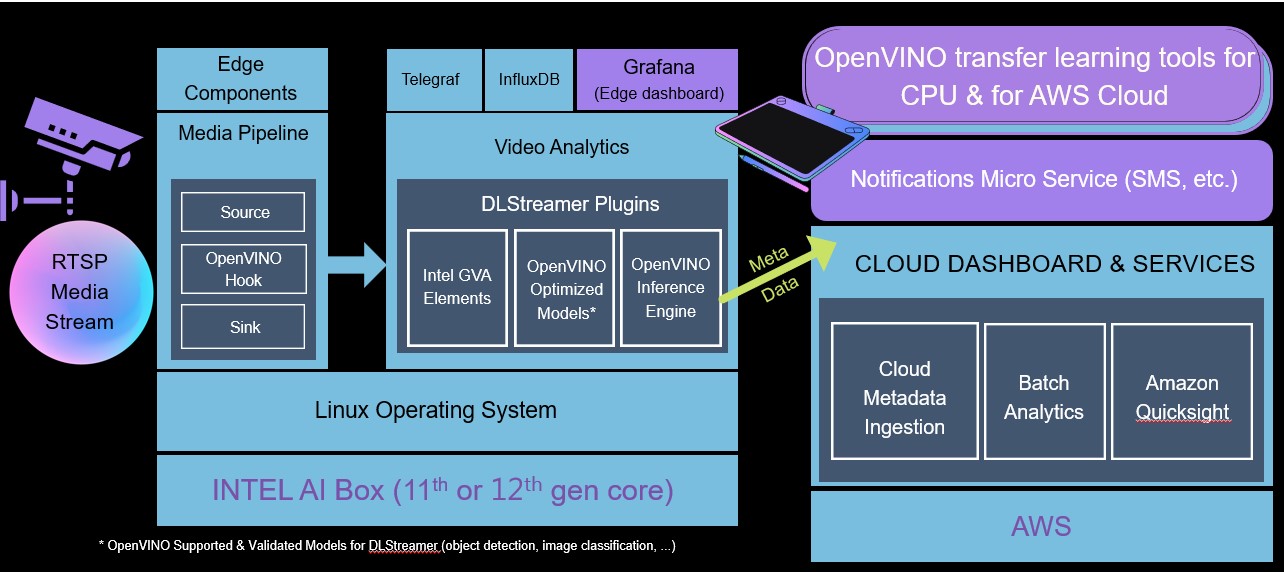 WPG's AI Box Development Kit, built on Docker Container, allows customers to quickly select and build appropriate products.


We package the full-featured software required for AI inference (inference) as a container. Our software includes the necessary functions for image AI inference, multi-channel image input decoding, image pre-processing, AI inference, image post-processing, image Coding, the inference results can be transmitted to the client's environment through a heterogeneous protocol, and a dashboard can be created on the local side to display the status in real time, so customers can modify the necessary images according to their needs without developing the entire project from scratch, greatly shortening the product time of landing.


System requirements for WPG AI Box:
11th Generation Intel® Core™ or Celeron® processors
Ubuntu 20.04
256 GB disk space (project dependencies)
16 GB RAM (project dependencies)
Partner