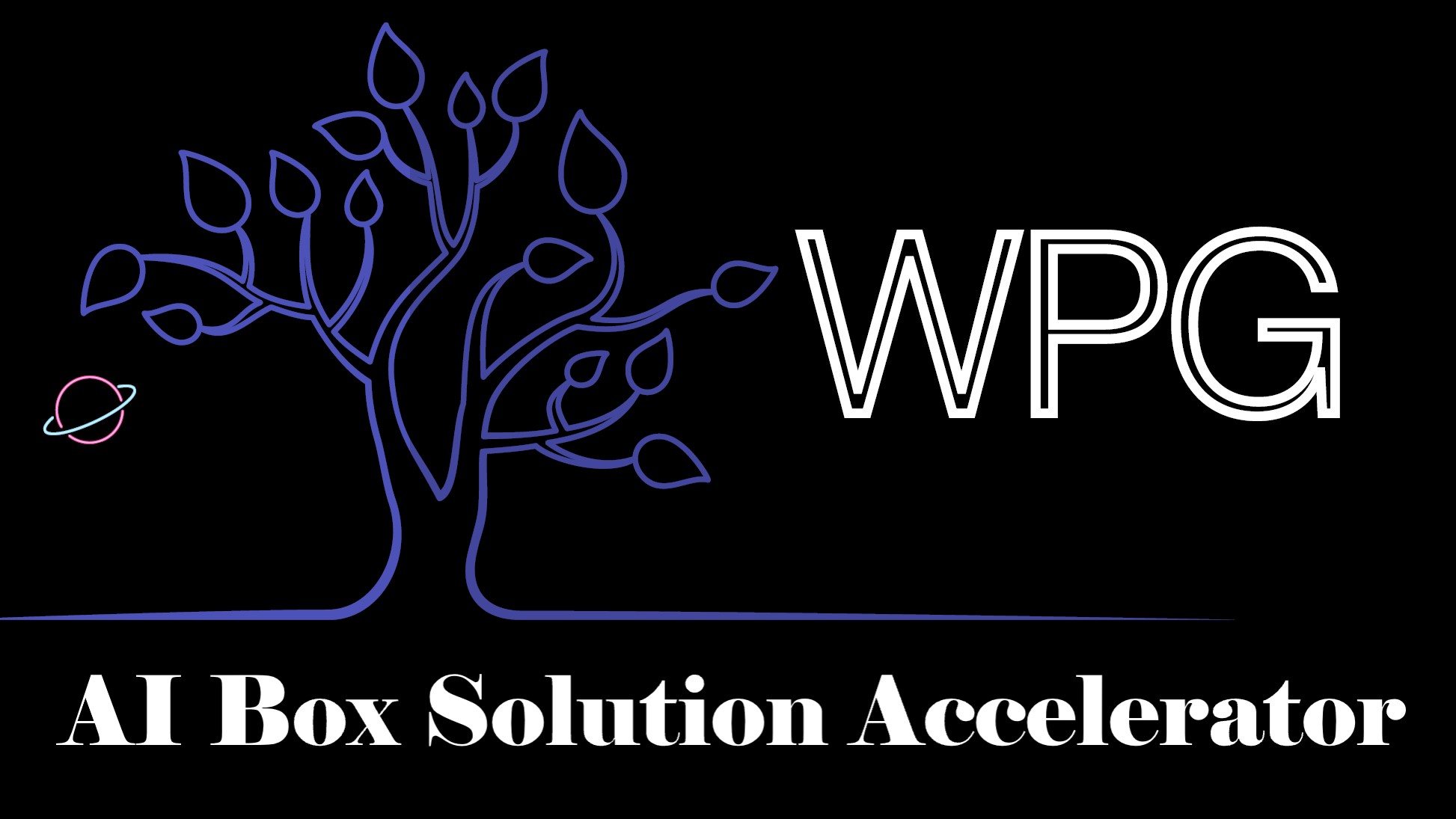 Edge Computing
2022/03/15
WPG: AI Box Solution Accelerator Toolkit
AIoT
Description
Artificial intelligence (AI) is moving from a technical concept to thousands of industries, realizing the actual implementation of multiple scenarios. In this process, the computing power is placed in front of the edge architecture design closer to the data source or service delivery location, and it is also used in various AI application solutions with more agile processing power, lower latency and better security. It has attracted much attention in the process of commercialization.
Among them, intelligent video analysis is favored by users with strong market demand and broad application scenarios. Edge AI-based intelligent video analysis solutions have been widely used in more than 10 fields such as smart cities, smart communities, smart transportation, smart manufacturing, and smart retail.
Building edge AI video analysis capabilities with excellent performance and broad application scenarios is inseparable from the effective aggregation of diverse algorithms and high-performance computing power. This not only requires a powerful hardware platform to carry the intensive computing load required for computer vision and reasoning, but also requires appropriate development tools and software frameworks to complete AI acceleration, and further activate the ecosystem to provide solutions for more scenarios.
In order to help partners complete the solution construction more efficiently and conveniently, WPG provides a series of advanced software and hardware products and technologies such as the WPG AI BOX Solution Accelerator tool suite, and also adopts the integration of software, hardware and algorithms through  AI Box products. Design, accelerate the development and engineering of edge AI applications.

Goal
The goal of WPG AI BOX SOLUTION ACCELERATOR is to saves thousands of hours in integrating required edge to cloud services, accelerating rapid time to RFP response & deployment Uses the shelf solution from Intel & Open Source Code.
Time to Market
Time to Business Outcome
Total Cost of Ownership
Solution Accelerators are Developer Reference Solutions that include all Software required for Developers & Ecosystem Partners to Accelerate their Deployment of Industry Specific AI Solutions.
IoT Solution Application
By adding cameras and computer vision capabilities to intelligent devices, systems can "see" and identify objects. This type of Artificial Intelligence (
AI
) is valuable in a range of environments, making it possible to quickly identify objects, inspect manufactured products, and more.
Vision solutions can also assist with corporate security, monitor the production floor for employee safety, or help identify procedural manufacturing bottlenecks.
Where do we use AI?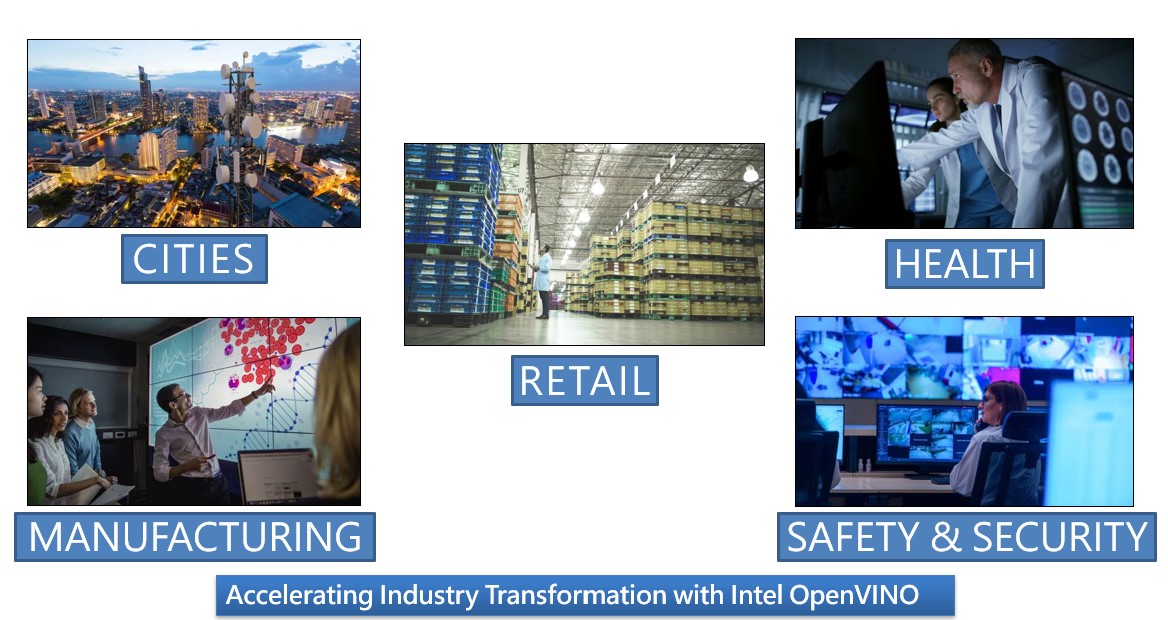 Citie
s :
AI enabling smart urban solutions brings multiple benefits, including more efficient energy, water and waste management, reduced pollution, noise and traffic congestions.
Manufacturing :
AI technology can process and interpret vast volumes of data from the production floor to spot patterns, analyze and predict consumer behavior, detect anomalies in production processes in real-time, and more.
Retail :
Retailers are using AI and technology like machine learning (ML) to power decisions about inventory and the customer sales journey and behind-the-scenes tasks that impact profit margins and efficiency. From better virtual retailer recommendations to theft prevention in physical stores, retail is an industry that has fully embraced the promises of AI.
Health :
AI helps increase the efficiency and productivity of care delivery, besides enabling clinicians and medical practitioners to spend more time in direct patient care without burnout.
Safety & Security :
AI-enhanced security cameras can be used in schools and businesses to cut the response time whenever action needs to be taken. For example, if the person that needs to be detected is a "white male wearing a blue shirt," the AI can differentiate between people entering an area who corresponds to the description and send an alert in real time.
IoT Solution Specification
System requirements for WPG AI Box:
11th Generation Intel® Core™ or Celeron® processors
Ubuntu 20.04
256 GB disk space (project dependencies)
16 GB RAM (project dependencies)
Solution Architecture (Release Source Code):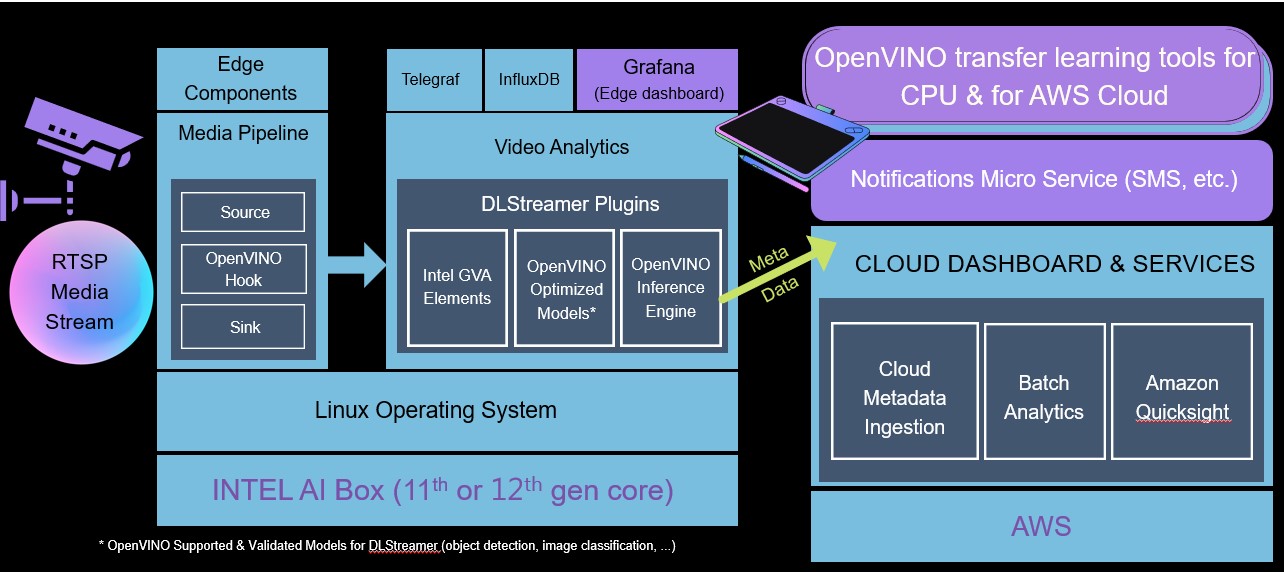 Software Features

RTSP SIMULATOR

OpenVINO™ DL STREAMER

TELEGRAPH

GRAFANA

CUSTOM MODEL TRANSFER LEARNING TOOL

AWS QUICKSIGHT (Optional)

NOTIFICATION MICROSERVICE (Optional)

Transfer Learning Tool

WPG accelerator includes a Docker container & jupyter notebook to greatly simplify the process

Training from scratch is expensive and time consuming
OpenVINO has Limited support for trainable AI Models
Traditional OpenVINO transfer learning process needs trial/error and a multitude of steps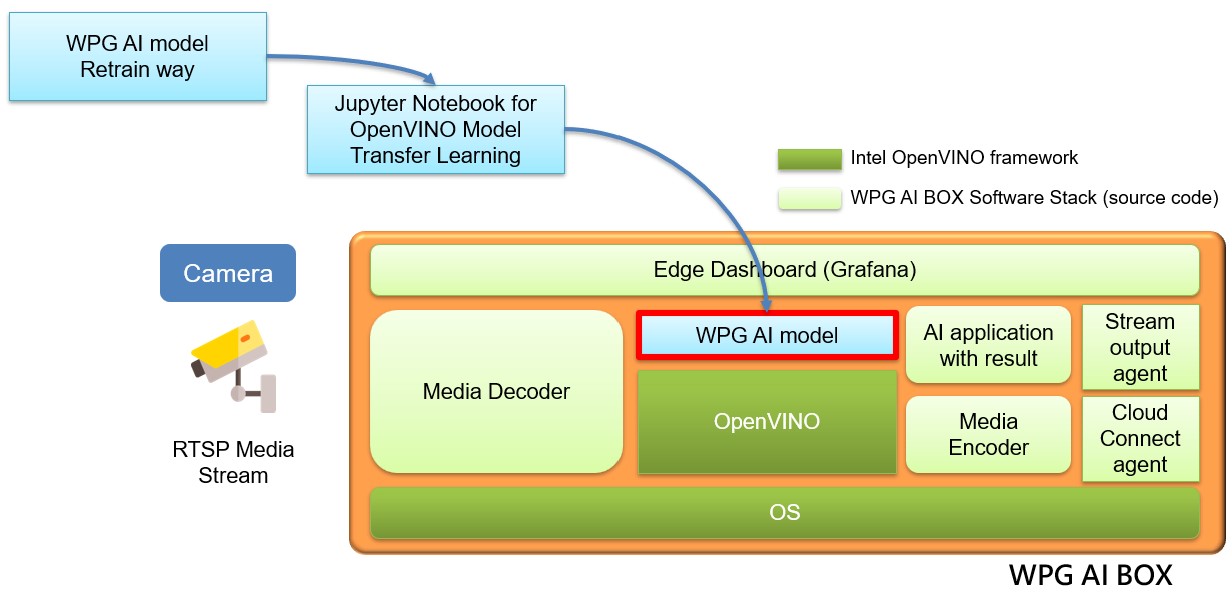 WPG provides demo and reference design:

Public Safety and Security Demo
We can secure critical infrastructure in cities using tripwire & people detection.
By using AI Intel OpenVINO optimized AI_ for insights, we can create rule based alerts for public safety and allow ISVs to use this repeatable reference solution on Intel based AI box PSS based use cases.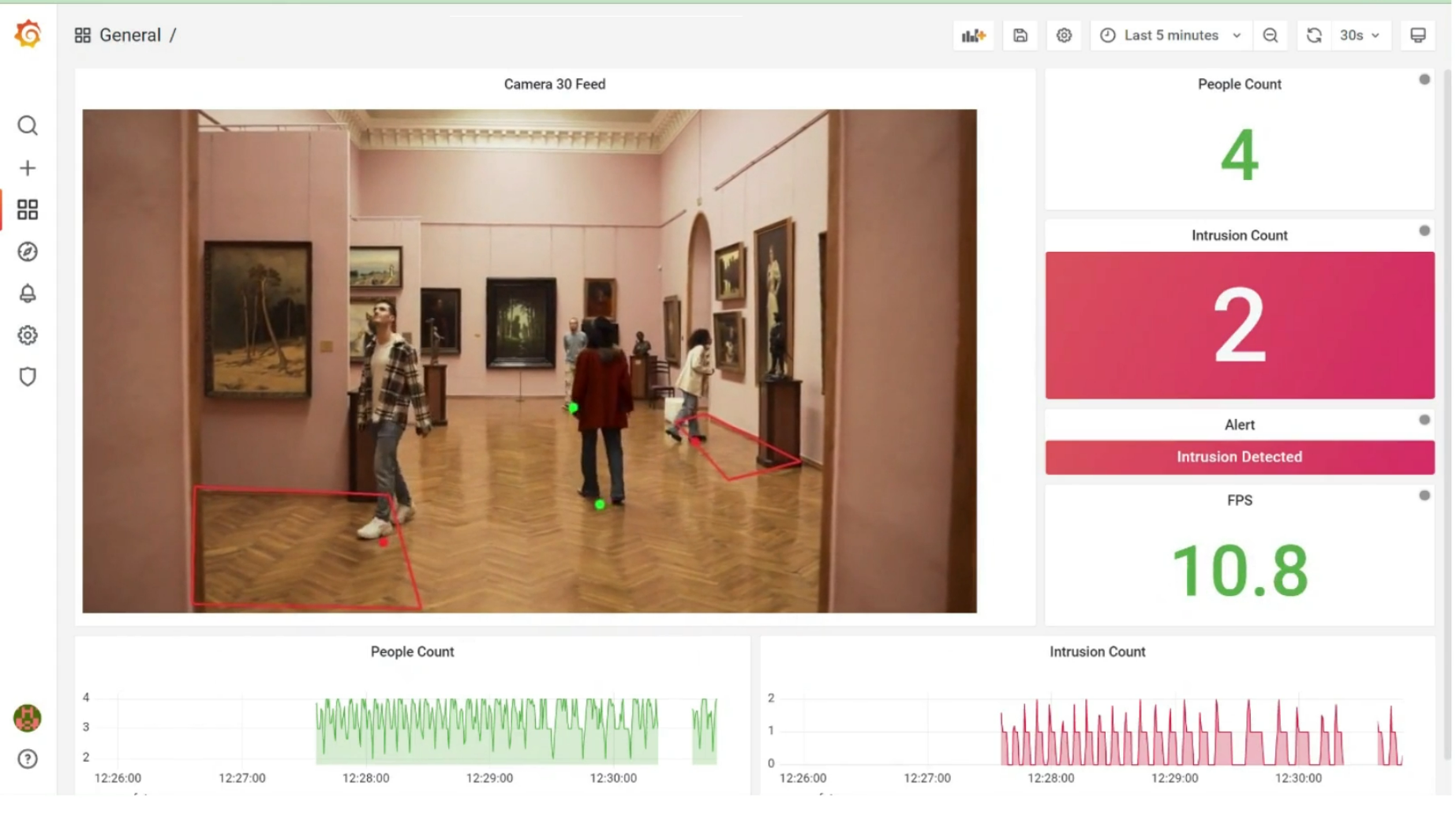 Public Safety and Security Demo with Fall Detection
This section demonstrates the steps to integrate human pose estimation model into this solution. This model detects a human pose consisting of keypoints and connections between them for all the humans detected.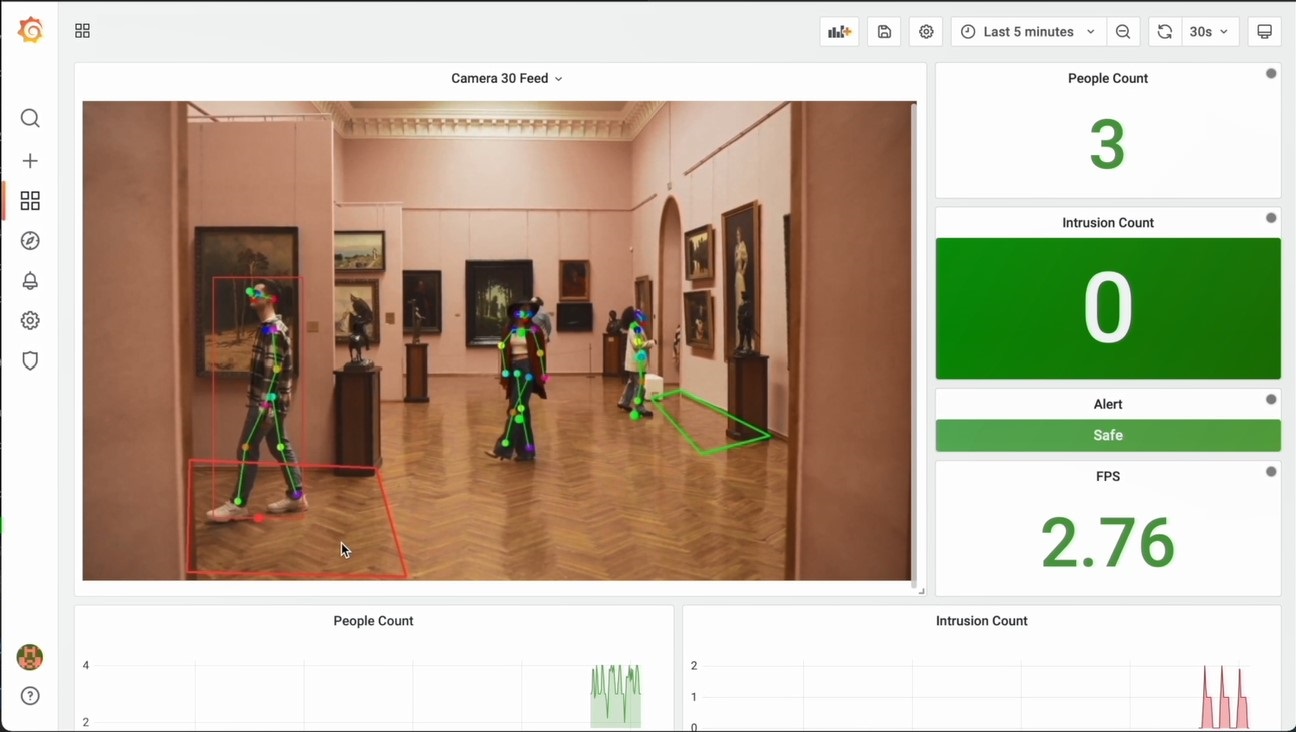 Partner